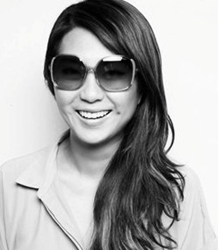 New York, NY (PRWEB) June 09, 2014
Razorfish, one of the world's fastest growing digital and technology agencies, today announced the appointment of Natalie Lam as Executive Creative Director (ECD) of the agency's New York headquarters. She most recently held the same position at McCann Erickson.
An industry veteran with a multitude of notoriety including being the recipient of a Cannes Cyber and Titanium Grand Prix award and a D&AD Black Pencil, Lam joins Razorfish with an equally inspiring resume. As ECD of McCann Erickson, she led the IKEA global account, creating new integrated brand platforms. Lam previously worked out of Shanghai for OgilvyOne Asia as an ECD following her role as Regional Creative Director, and was charged with bolstering the agency's creative offering and populating its client roster with impressive brands such as Adidas, Lee Jeans, Chanel and Fanta. She made her splash while serving as Creative Director at R/GA where she received accolades for her work on Nike+.
In her new role, Lam will be responsible for leading Razorfish New York's 50+ person creative team that works across key client accounts including Mercedes-Benz USA and UNIQLO, conceptualizing campaigns that breed brand-consumer interaction and developing holistic experiences that transform clients' businesses.
"It's a huge priority for us to equip our worldwide network with the resources needed to service our global clientele," said Daniel Bonner, global chief creative officer for Razorfish. "While technology is continuing to shape the new ways in which people connect, it's the application of creativity that pushes the limit of each touchpoint. Hiring world class creative talent is essential to help our clients remain at the forefront of innovation."
"As emerging technologies continue to evolve the relationship companies have with their customers, creativity can make or break a brand experience" said Patrick Frend, president of the east region for Razorfish. "We are fortunate enough to work with clients who understand the value of creativity and the pivotal role digital plays in business transformation. Natalie brings a global perspective and a passion for her craft that can take these experiences and our clients to the next level."
"Razorfish has been an iconic name since I started my career," said Lam. "Its focus on creating integrated brand experiences with digital at their core is close to my heart. I'm thrilled to join a team that has the perfect balance of creativity and technology savviness to enrich the world we live in."
Lam's appointment is effective immediately and she will be based out of the Razorfish New York office in Times Square.
About Razorfish
Motivated and inspired by what's next, Razorfish helps its clients navigate the unknown, drive change and transform business. One of the pioneers of marketing in the digital age, Razorfish has a unique blend of technology, creativity and media at its core. The agency's world class capabilities in strategic consulting, experience design, brand building, technology platforms, data services, retail/commerce and media services enable transformational work for clients including Delta Air Lines, McDonald's, Mercedes-Benz USA, Microsoft, Nike China, Unilever and Uniqlo. Razorfish's team of 3000+ experts spans 19 regions, including Australia, China, Germany, Hong Kong, India, Japan, Singapore, the United Kingdom and the United States.
Razorfish is part of Publicis Groupe. For more information, visit Razorfish.com, like us on Facebook or follow us on Twitter and Weibo.
Razorfish. Here for tomorrow.™