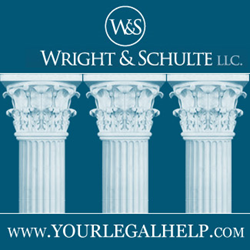 If you or someone you know has been harmed due to a consumer product, medical device, or prescription drugs contact the attorneys at Wright & Schulte LLC for a free legal consultation by calling 1-800-399-0795 or visit www.yourlegalhelp.com
Columbus, OH (PRWEB) June 08, 2014
Corey Artim, an attorney with Wright & Schulte LLC, an experienced Ohio personal injury and national product liability law firm, has been elected to the Board of Trustees of the Ohio Association for Justice (OAJ). The Board of Trustees is tasked with overseeing the actions of the OAJ, and guides the Association in making decisions on legislative action, business practices, and general ways to improve the organization as a whole.
The OAJ consists of roughly 1500 attorneys from around Ohio and several other states. Founded in 1954, it is the only statewide association of attorneys whose mission is to preserve Constitutional rights and protect access to the civil justice system for all Ohioans through advocacy in the Courthouse, Statehouse, and Bureau of Workers' Compensation. The OAJ Board of Trustees consists of 9 executive board members and up to 60 trustees.
(oajustice.org/index.cfm, OAJ)
Core Artim earned his J.D. at the University of Dayton School of Law in 2010, and was admitted to the Ohio Bar in 2011. Mr. Artim focuses his practice on auto accidents, wrongful death, product liability, mass torts, class actions, and trial practice. He is currently serving on the Complaint and Motions Committees for the Darvocet Products Liability Multidistrict Litigation, a mass tort proceeding now underway in U.S. District Court, Southern District of Ohio (MDL – 2226). Mr. Artim recently spoke at the OAJ's Annual Convention, which took place this past May in Columbus, Ohio. His presentation was entitled "Professionalism: The Pillar of Your Practice." He also serves on the Association's New Lawyer Committee.
Mr. Artim is also a member of the American Association of Justice, the Dayton Bar Association, and the Phi Alpha Delta Law Fraternity. He was named an Ohio Super Lawyers Rising Star in 2013.
Mr. Artim and his Firm, Wright & Schulte LLC, have been at the forefront of some of today's most important personal injury and product liability cases. He and all of the attorneys and legal staff at Wright & Schulte LLC understand that the victims of serious personal injuries are often left financially, emotionally and physically devastated. The Firm is proud of the reputation they have earned for aggressively pursuing and holding responsible those whose negligence all too often results in serious injury to innocent people. Wright & Schulte LLC offers free lawsuit evaluations to victims of Ohio personal injuries throughout the state. To learn more, please visit yourohiolegalhelp.com, or call 937-222-7477 to speak with an Ohio personal injury attorney today.
About Wright & Schulte LLC
Wright & Schulte LLC, an experienced personal injury firm, is dedicated to the belief that America's legal system should work for the people. Every day, the attorneys of Wright & Schulte LLC stand up for the rights of people who have been injured or wronged and fight tirelessly to ensure that even the world's most powerful corporations take responsibility for their actions. If you're looking for a law firm that will guarantee the aggressive and personal representation you deserve, please do not hesitate to contact Wright & Schulte LLC today. Free case evaluations are available through yourohiolegalhelp.com or by calling 1-800-399-0795 or 937-222-7477.
812 East National Road
Vandalia, Ohio 45377
1-800-399-0795
http://www.yourlegalhelp.com
Like us on Facebook
Follow us on Twitter