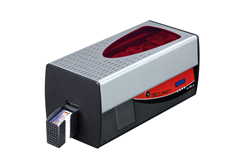 Evolis, France (PRWEB) June 17, 2014
Evolis, a global manufacturer of plastic card printing solutions, exhibits its range of integrated products and solutions that allow organizations, companies and governments to deliver highly secure official documents and to prevent counterfeiting of identification cards. Thanks to their advanced and quality-focused printing engines and multiple encoding technologies (smart and contactless chips), Evolis card printers personalize access control badges, ID cards on a decentralized way.
SDW visitors will have the opportunity to see demonstrations of Evolis newly-enhanced Avansia retransfer card personalization system, the well-known Securion equipped with a security-oriented personalization process, as well as Sig100 & Sig200, its new range of signature pads, ideal to capture handwritten signatures and insert them directly in a card.
Many other government countries leverage Evolis printers to deliver highly-secured documents (drivers' licenses, National ID cards…). Evolis solutions have also been adopted for identification and access control purposes in highly secured and critical environments, such as airports.