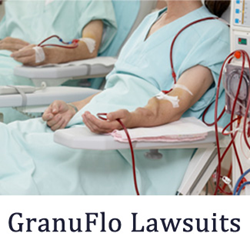 Wright & Schulte LLC, a law firm that guarantees the aggressive and personal representation you deserve. Contact Wright & Schulte LLC today for a FREE GranuFlo lawsuit evaluation by visiting yourlegalhelp.com or call 1-800-399-0795.
Columbus, OH (PRWEB) June 08, 2014
With litigation underway in a Massachusetts federal court where at least 1,717 Dialysis Medication Lawsuit have been filed in connection with the 2012 GranuFlo and NaturaLyte dialysis drug recall, Fresenius Medical Care North America has issued a recall for 56 lots of its NaturaLyte Liquid Bicarbonate Concentrate, 6.4 liters, Wright & Schulte LLC reports.
The U.S. Food & Drug Administration (FDA) stated in a May 22, 2014, safety alert that Fresenius recalled the NaturaLyte, which is used in hemodialysis machines for dialysis treatment, after discovering that the affected lots may develop higher levels of bacteria than the company's internal specification allows during the product's shelf life. Wright & Schutle has learned through an FDA safety announcement, lab tests identified the bacteria as "Halomonas" (species 1, 2, 3), which is found in water with a high salt concentration. The FDA further stated in its safety alert that the dialysis products should be permanently removed from use.
[fda.gov/safety/medwatch/safetyinformation/safetyalertsforhumanmedicalproducts/ucm398553.htm, May 21, 2014]
The lawyers at Wright & Schulte LLC continue to offer free legal consultations to those who believe they have experienced injury or side-effects from dialysis medications such as GranuFlo and NaturaLyte. Contact one of the firms experienced product injury lawyers at 1-800-399-0795 or visit http://www.yourlegalhelp.com
NaturaLyte, a liquid, and GranuFlo, a powder, are dialysis concentrates used to neutralize acid in the blood in patients with kidney failure. NaturaLyte and GranuFlo were recalled in March 2012 after it was discovered that the two products posed serious health risks to patients undergoing kidney dialysis. According to the New York Times, the discovery occurred after Fresenius sent a memo, dated November 4, 2011, warning doctors to adjust the dosage of the products since 941 patients treated at the Fresenius' dialysis centers had suffered cardiac arrest in 2010, and high bicarbonate levels were connected to an significant increased risk of cardiac arrest. The New York Times further reported that the memo was included in the GranuFlo lawsuits. In March 2012, Fresenius sent an Urgent Production Notification to dialysis clinics across the country regarding the high bicarbonate levels in the two products. The FDA then issued a Class 1 recall of NaturaLyte and GranuFlo. An FDA Class 1 Status is the most serious type of recall that involves situations where products could cause serious health consequences or death. According to the FDA, the potentially dangerous side effects posed by the products included heart attack, stroke, dangerously low blood pressure, cardiopulmonary arrest and sudden cardiac death.
[graphics8.nytimes.com/packages/pdf/business/fresenius-memo.pdf, Fresenius Medical Care Memo, March 29, 2013]
[fda.gov/MedicalDevices/Safety/ListofRecalls/ucm309990.htm, FDA, March 29, 2013]
Court documents indicate that at least 1,717 Dialysis Medication Lawsuits have been filed in the U.S. District Court, District of Massachusetts on behalf of individuals who allege that they were injured by GranuFlo or NaturaLyte. Plaintiffs in the GranuFlo lawsuits allege that using GranuFlo and NaturaLyte before the products were recalled in 2012 placed them at an increased risk for catastrophic cardiovascular problems that include strokes, heart attacks and sudden cardiac death. The plaintiffs also questioned why Fresenius did not notify thousands of dialysis clinics outside of the Fresenius network about the health risks associated with using GranuFlo and NaturaLyte.(In Re: Fresenius GranuFlo/NaturaLyte Dialysate Litigation, MDL No. 2428)
Dialysis patients or their surviving family members may be eligible to file a or NaturaLyte or GranuFlo lawsuit if they suffered a sudden, serious heart problem during or after a dialysis treatment that involved the administration of GranuFlo or NaturaLyte. Wright & Schulte LLC is offering free legal consultations to anyone interested in filing a GranuFlo or NaturaLyte recall claim. To learn more about filing a lawsuit or to arrange for a free legal consultation, please visit yourlegalhelp.com.
About Wright & Schulte LLC
Wright & Schulte LLC, an experienced personal injury firm, is dedicated to the belief that America's legal system should work for the people. Every day, the attorneys of Wright & Schulte LLC stand up for the rights of people who have been injured or wronged and fight tirelessly to ensure that even the world's most powerful corporations take responsibility for their actions. If you're looking for a law firm that will guarantee the aggressive and personal representation you deserve, please do not hesitate to contact Wright & Schulte LLC today. Free GranuFlo lawsuit case evaluations are available through yourlegalhelp.com or by calling 1-800-399-0795.
Contact:
Wright & Schulte LLC
812 East National Road
Vandalia, Ohio 45377
1-800-399-0795
http://www.yourlegalhelp.com
Like us on Facebook
Follow us on Twitter