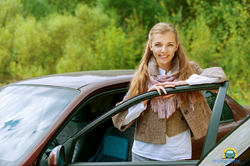 Diane Cowen, the Virtual Services Librarian for Santa Cruz Public Libraries, says this is a valuable resource for the Santa Cruz community.
Washington, DC (PRWEB) June 07, 2014
Today, Driving-Tests.org launched a new public service initiative - the Community Based Online Driver Education Program - to provide public libraries with funding for the development of high-quality online driver education programs.
In response, Amie Thomas, MLS, the Public Services Administrator at the Brownsburg Public Library in Brownsburg, Indiana, today congratulated Driving-Tests.org for developing this online education advocacy campaign:
"Strategically speaking, one of our goals at the Brownsburg Public Library has been to offer as many online resources as possible. This program will help us offer a valuable resource that our community can access anytime and anyplace. For years, we've struggled to stay on top of the various driving manuals; unfortunately, due to their size and value they often disappear. This is an amazing resource for anyone preparing to take their written driving test."
The program is designed to help public libraries address some of their biggest challenges, which includes inadequate funding and limited access to technology. Due to budget cuts, some libraries - like Jefferson High Library in El Paso, Texas - have had to cut online resources at a time when library directors are struggling to strengthen ties with today's tech saturated teens.
Priscilla Pineda, Head Librarian at the Jefferson High, says, "Driving-Tests.org will help us achieve our goals of providing students with online resources to relevant information. Passing one's driving test is a very important accomplishment to most teenagers. In providing our students these practice tests, we are helping them achieve this milestone in a shorter amount of time."
In April 2014, Driving-Tests.org launched a pilot program to test the viability of the community-based education concept. Since then, the company has funded development of 45 online community driver education programs for public libraries across the US.
Andrei Zakhareuski, founder of Driving-Tests.org, says, "Libraries are the 'hubs' that point their visitors in the right direction, and we believe we're that 'right direction' when it comes to safe driving. Our cyber study program gives teens and other learner drivers access to library resources when and where they want, thus saving lives by promoting driver education before kids get behind the wheel."
Magi Henderson, Youth Services Director for the Glen Carbon Library in Glen Carbon, Illinois says the program is especially timely. "Summer is an especially difficult time to meet everyone's needs. There is a higher than usual demand for digital resources during summer whereas there is more demand for books during the school year."
Interested libraries are encouraged to apply to the 2014 Community-Based Online Driver Education Program before 12:00 PM EST on August 15, 2014. If accepted, all development and hosting costs will be funded by Driving-Tests.org, the program sponsor. The service will be free for as long as the library continues to participate in the program. To learn more, visit the Community Driver's Education Program.
Company Information: Driving-Tests.org was founded in 2010 and is based in Ontario, Canada. Since inception, the company has administered over 4.5 million permit practice tests to learner drivers in all 50 US states. The site offers over 550 state-specific permit practice exams for automobile and motorcycle licensing. The company has recently partnered with the National Safety Council, the Roadway Safety Foundation and the Military Child Education Coalition. To learn more, visit Driving-Tests.org.