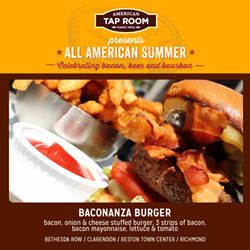 We were able to get really creative with everything from an over the top 'Baconanza Burger' to a special bourbon and bacon sauce that goes particularly well with a ribeye steak," stated Executive Chef Steve Mannino.
Reston, VA (PRWEB) June 07, 2014
The American Tap Room is proud to announce an All American summer series of limited edition beer tastings and food celebrations. These special events will include tastings of limited release Craft Beers from Starr Hill, Blue Mountain and Devil's Backbone.
"It was a lot of fun bringing this promotion together with bacon items that work so well with local craft beers and a fabulous Virginia made bourbon," stated Executive Chef Steve Mannino. "We were able to get really creative with everything from an over the top 'Baconanza Burger' to a special bourbon and bacon sauce that goes particularly well with a ribeye steak. I also look forward to Bacon Week Dinners (July 8th thru July 11th) where we will being pairing five courses of bacon inspired dishes with local craft beer and bourbon."
This All American Summer Promotion is celebrating the season and the introduction of signature Bacon, Beer, and Bourbon items at all area locations:

Bacon, Beer, and Bourbon inspired menu pairings developed by Executive Chef Steve Mannino available Monday, June 9th thru July 13th. The menu features:
Bacon

Creamy Cheddar Bacon Stuffed Potato Skins
Virginia's Snack of Champions (Bowman's Bourbon and two strips of Bacon).
Chopped Salad (Iceberg lettuce, pickled red onions, cheery tomatoes, warmed bacon, and blue cheese dressing).
Pan Seared Jumbo Sea Scallops (Bacon infused creamed corn, and pesto potatoes.)
Bacon- Jalapeño Chicken Mac and Cheese
ATR Trifecta: Fried Chicken, Bacon and Waffle
Bacon Waffle Sundae
Beer

Starr Hill
Devil's Backbone
Blue Mountain
Bourbon
Featuring Virginia's own Bowman Distillery:

Abraham's Bowman Brothers Small Batch
Bacon Infused Bowman Brothers Small Batch
Virginian in Manhattan
Locals Only Beer Tasting Events will be available at all American Tap Room locations beginning June 10th and include:
Starr Hill Beer Limited Reserved Tasting
Reston: Tuesday, June 10th 6PM-8PM
Bethesda: Wednesday, June 18th 6PM-8PM

Blue Mountain Limited Reserve Seating Tasting
Richmond: Thursday, June 19th 6PM-8PM
Reston: Tuesday, June 24th 6PM-8PM

Devil's Backbone Limited Reserve Tasting
Bethesda: Thursday, June 26th 6PM-8PM
Richmond: Friday, June 27th 6PM-8PM

Special tasting of limited reserve selections from Starr Hill, Blue Mountain & Devils Backbone
Clarendon: Tuesday, June 17th 5PM-8PM
Richmond: Saturday, July 12th 2PM-5PM

Bacon Week at American Tap Room July 7th -13th
Special bacon, bourbon, and beer dinners
Reston: Tuesday, July 8th 6:30PM-8:30PM
Clarendon: Wednesday, July 9th 6:30PM-8:30PM
Bethesda: Thursday, July 10th 6:30PM–8:30PM
Richmond: Friday, July 11th 6:30PM-8:30PM
Battle of Brewer Tickets will be available the day of event for purchase or pre-ordered and paid through email contact:
events(at)americantaproom(dot)com or calling the location directly to make reservations:
Bethesda: 301.656.1366
Reston: 703.834.0400
Clarendon: 703.312.9080
Richmond: 804.308.9013
Reservation for Bacon Week Dinners can be made through email contact: events(at)americantaproom(dot)com or calling the location directly to make reservations:
Bethesda: 301.656.1366
Reston: 703.834.0400
Clarendon: 703.312.9080
Richmond: 804.308.9013
About American Tap Room
The American Tap Room is owned by Reston, Virginia-based Thompson Hospitality. Warren Thompson, a longtime foodservice industry veteran, founded Thompson Hospitality over two decades ago. In addition to American Tap Room, Thompson Hospitality owns and operates a variety of branded restaurant concepts including Be Right Burger (brb), Austin Grill and Tequila Bar and Willie T's Lobster Shack.
American Tap Room Links
Website - http://www.americantaproom.com/
Facebook - https://www.facebook.com/AmericanTapRoom