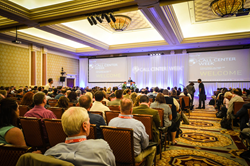 Las Vegas, NV (PRWEB) June 11, 2014
The 15th Call Center Week has officially kicked off at the Mandalay Bay Resort & Casino in Las Vegas. The remarkable event is taking over Vegas, June 9-13, for a weeklong conference that is tailor-made to be more inspiring, practical and innovative than ever before. High-level call center professionals have gathered from around the globe for the most impressive program and line-up of keynote speakers in the industry.
Call Center Week's tremendous growth has culminated in its 15th anniversary milestone celebration. Call Center Week is celebrating by providing attendees with unmatched takeaways including a massive exhibition hall, numerous skill-based workshops, multi-speaker master classes, a variety of unique networking opportunities, book signings with New York Times' bestselling authors, interactive call center site tours and much more. Call Center Week is also recognizing and honoring the key leaders of the industry for their excellence and innovation during the Call Center Week Excellence Awards ceremony, on Wednesday, June 11.
The roster of speakers on the program include: Keith Ferrazzi, Founder and CEO of Ferrazzi Greenlight and author of New York Times' Bestseller of Never Eat Alone; Jenn Lim, CEO & Chief Happiness Officer, Delivering Happiness & Zappos Culture Book Creator; Jasmine Green, Chief Customer Advocate at Nationwide Mutual Insurance Company; Christopher Cardenas, VP Customer Service Operations at Time Warner; Adriana Torres, Global Head of Customer Care Services at Visa, Inc.
"We are thrilled to be in Las Vegas, kicking off the highly anticipated 15th anniversary of Call Center Week," said Lisa Schulman, Executive Producer of IQPC's Call Center Week. "Customer Service Professionals from around the world have come together for one special week with opportunities to network with their peers, learn new industry techniques and processes, and share their experiences all while taking back positive changes to their organizations."
For more information about Call Center Week, please visit http://bit.ly/1oA0U11, call 1-800-882-8684 or e-mail enquiry(at)iqpc(dot)com.
About IQPC:
IQPC produces 1,500 global events that are custom-tailored to the unique needs of business executives. Founded in 1973, IQPC leverages an office network that spans six continents and a wealth of intellectual capital to provide an unparalleled portfolio of conferences and seminars. For more information, please visit http://www.iqpc.com.
Contact:
Gahwui Kim
Jr. Divisional Marketing Director
IQPC
646-502-3266
Gahwui.kim(at)IQPC(dot)com