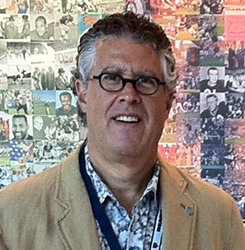 Palatine, IL (PRWEB) June 10, 2014
Responsible for creating innovative and impactful brand-building and marketing strategies for Little City—leading to increased awareness, fundraising revenue and relevance—Larry Heisler joins Little City as the Chief Marketing Officer. As an integral member of the Little City executive team, Heisler will work to revitalize the Little City brand.
A leader for over 50 years, the Palatine-based nonprofit organization provides personalized services to hundreds of children and adults with intellectual and developmental disabilities in the Chicagoland area. Little City strives to help individuals realize their unique potential to live safely, learn continuously, explore creatively and work productively throughout their lifetimes.
Heisler comes to Little City with many years of experience in the Branding and Marketing business, with expertise in creating powerful brands by thinking big, bold and brave.
"I believe change can only be accomplished by challenging the status quo," stated Little City Chief Marketing Officer Larry Heisler. "It comes by thinking differently, building relationships, taking chances and not being afraid to fail."
Heisler possesses strong creative, communication and leadership skills with a proven track record of success across the broad spectrum of traditional and social marketing channels.
"Today we are facing greater challenges than ever—with increasing numbers of organizations operating in crowded issue spaces and competing for shrinking funding, Little City must find ways to differentiate," said Little City Executive Director Shawn E. Jeffers. "I'm confident that with Larry's leadership in developing and implementing our marketing and communication platform we will be able to cut through the clutter and gain critical support of key stakeholders and raise substantial funds."
To support children and adults with autism and other intellectual and developmental disabilities, visit http://www.littlecity.org.
For complete information, visit http://www.littlecity.org or contact Sally Blake at sblake(at)littlecity(dot)org or 847-221-7831.