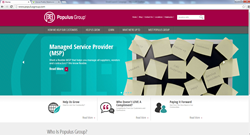 Troy, MI (PRWEB) June 09, 2014
Populus Group, LLC, a provider of innovative employment solutions, has launched a redesigned company website, http://www.populusgroup.com.
"The new site features a clean, refreshing design and allows for an easy-to-navigate user experience. The content is engaging and provides a fresh perspective on how we solve our customers' problems; it also ties back to our key belief as a company, that everyone deserves and opportunity to succeed," says Jennifer Pasquier, Online Marketing Manager for Populus Group. "We're really excited to have such an amazing resource for our customers and employees."
The site also includes resources like white papers and case studies in addition to our new blog, titled The Summit. Users to easily access our Facebook page, Twitter feed and LinkedIn page directly from the site, as well as share content they're interested in with others on Facebook, Twitter, LinkedIn and Google+. Visitors can also access the latest news and events about Populus Group and our industry.
"Over the years, we've put a lot of focus on building and protecting our fun-loving company culture so our employees enjoy coming to work every day and our customers can enjoy working with us. My favorite thing about our new site is that we're sharing more of our culture with users visiting our site so they can better understand why we do what we do. I hope everyone enjoys it as much as I do," says Bobby Herrera, President of Populus Group.
About Populus Group
Find a Way. Entrepreneurial Spirit. Pioneering Mentality. Innovation. These are a few of the characteristics that define our culture and way of doing business. Most importantly, our people embody these characteristics and are the ones who bring creative ideas to the table and tirelessly build and protect our truly uncommon culture. And boy, are we passionate about it.
Since our inception, our customers' needs have helped us expand our footprint and we currently have nine offices throughout the U.S. in Baltimore, Chicago, Troy, New York, Philadelphia, Phoenix, Portland, San Francisco, and Seattle. We're a privately-held, Minority Business Enterprise (MBE) certified in all 50 states via the Michigan Minority Supplier Development Council.
Visit the site at http://www.populusgroup.com and contact us if you have feedback or questions.
###
Contact: Jennifer Pasquier
Phone: 425.372.1248
Email: jpasquie(at)populusgroup(dot)com