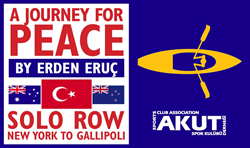 My struggle against nature will be nowhere near as daunting and hopefully I will be able to convey the message that wars have no winners.
New York, NY (PRWEB) June 10, 2014
As part of the Centenary Commemorations of the Gallipoli Campaign, AKUT Athlete Erden Eruç is preparing for his transatlantic row from New York to Gallipoli in 2015. This project named "A Journey for Peace" will take place during the same months that the battles were fought a hundred years prior on the Gallipoli Peninsula.
The outcome of the Gallipoli Campaign precipitated the fall of the Russian Empire and the birth of three modern Nations, namely Turkey, Australia and New Zealand, making it one of the most significant battles in history.
Following the multi-flag ANZAC Day Centenary Dawn Service at the Vietnam Veterans Memorial Plaza in Manhattan on 25 April 2015, Eruç will time his departure by rowboat with favorable conditions.
He will carry three flags on his rowboat to honor the shared sacrifice, which cost half a million casualties on that small patch of land half a world away. Eruç said, "My struggle against nature will be nowhere near as daunting and hopefully I will be able to convey the message that wars have no winners."
Eruç is the first person to have rowed the three oceans and the only one to have completed a solo human-powered circumnavigation. He will take on this challenge to benefit AKUT, a leading nongovernmental organization in Turkey specializing in search and rescue, especially in natural disasters. He is the president and founder of the 501(c)(3) nonprofit Around-n-Over, established to educate and inspire through stories based on human powered journeys. He cares for girls' education in rural Turkey and has raised about $100,000 toward educational projects.
In the months leading up to the journey, Eruç will share his preparations in his blog then continue the same by satellite phone from his rowboat. One of his missions is to reach students and to inspire them to honor their dreams. 937 is the record for total career days at sea by an ocean rower, which belongs to Peter Bird, a pioneer of the sport who was lost at sea in 1996.
Eruç added, "By the time I reach Portugal, I will have matched and exceeded Peter's commitment. I want the students to know that I carry Peter's logo on my rowboat as they become witnesses to a new world record."
About AKUT USA
AKUT USA is coordinating fundraising, donations and special equipment procurement activities for AKUT Search and Rescue Association in Turkey.
Founded in 1996 as a mountain rescue team, AKUT has been involved in search and rescue as well as humanitarian aid for 15 years. It was during the disastrous earthquake of 1999 in Marmara, Turkey that AKUT really matured into one of the most important search and rescue organizations in the region.
AKUT has been instrumental in search and rescue operations during crises across the globe, from Greece to as far away as Haiti.
AKUT is a member of International Search and Rescue Advisory Group (INSARAG), under the United Nations since 1999. AKUT is widely recognized as the most knowledgeable and the most experienced organization among earthquake search and rescue teams, not only in Turkey but also internationally.