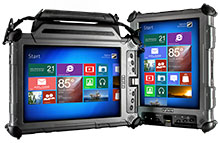 The XC6 is the toughest and highest performance product Xplore has ever developed. It will perform very well in environments where device failure is not an option.
Chandler, AZ (PRWEB) June 10, 2014
Group Mobile, well known for carrying the top brands in rugged laptops, rugged tablet PCs, rugged smart phones, and rugged handheld computers has recently extended its product offerings to include the new Xplore XC6 Series. The Xplore XC6 Series notably upgrades Xplore's iX104 ultra-rugged tablet series, with double the performance speeds, a 30 percent increase in sunlight-readability, an innovative rugged multi-touch display, and a full Windows 8.1 or Windows 7 Pro operating system.
"The XC6 is the toughest and highest performance product Xplore has ever developed. It will perform very well in environments where device failure is not an option," said Mark Holleran, president and chief operating officer for Xplore Technologies. "No matter if it's the middle of the desert or in freezing rain, this tablet is going to excel in extreme conditions, resulting in a longer lifecycle, and higher return on investment for our customers."
The Xplore XC6 series is prepared with a fourth generation Intel Core i5 processor. The XC6 series also has 4G LTE communications capabilities, offers up to 256 gigabytes of configurable solid state storage, and lasts even longer in the field with a 30 percent increase in battery life.
"While we expand our product offerings, we will continue to maintain our leadership position as the manufacturer of the most rugged tablets by continuing to deliver the latest in ultra-rugged tablet technology," said Philip S. Sassower, chairman and chief executive officer for Xplore. "Tapping into more than 15 years of experience, we continue to develop the most advanced mobile computing solutions for industries operating in the toughest environments."
The XC6 possesses a 1300 NIT display and its direct sunlight-readable screen offers users the clearest visibility, even in extreme lighting situations. Xplore has developed a new Analog Matrix Resistive multi-touch screen to facilitate tablet use while wearing gloves or in soaking wet conditions. The XC6 screen also features an In-Plane Switching display to enhance contrast, provide more uniform color reproduction, and enable a wider variety of viewing angles.
Xplore's XC6 series can be structured for a variety of applications and industries, such as military operations, oil and gas (including hazardous, explosion-prone locations), utilities, transportation, construction, warehousing and distribution applications, and any other industries that operate in harsh environments.
To learn more about the Xplore XC6 Series, visit http://www.groupmobile.com/dept.asp/dept_id=475, or call toll free 866-RUGGED8 (1-866-784-4338).
About Group Mobile
Headquartered in Phoenix, AZ, Group Mobile serves customers all over North America. Customers range from Fortune 500 companies and the U.S. Military, to local police/fire/ambulance, to small and mid-size businesses, to the frequent traveler that needs something more durable than a commercial, off-the-shelf computer. Group Mobile carries all the leading rugged computing brands. In addition, Group Mobile offers vehicle docking and mounting equipment from Gamber Johnson, Ram Mounts, Jotto Desk, and Havis/Ledco. To learn more about rugged computers and how they differ from commercial, indoor computers, check out the Rugged Computer Guide or visit us online at http://www.groupmobile.com.