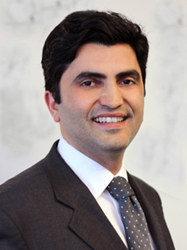 Overcoming the effects of facial paralysis is a long and difficult process.
Beverly Hills, CA (PRWEB) June 09, 2014
Dr. Babak Azizzadeh of the Facial Paralysis Institute in Beverly Hills commented today on Julia Wolner's fashion collection that won the prestigious Liz Claiborne Award at the Pratt Institute's 2014 Fashion Show in Manhattan. Wolner's award also included a $25,000 prize. Her designs were inspired by her battle with Bell's palsy. She was diagnosed with the facial nerve disorder two years ago after losing the ability to move one side of her face.
"Overcoming the effects of facial paralysis is a long and difficult process," Dr. Azizzadeh said. "The fact that Julia has been able to not only cope with her Bell's palsy but also channel her experience through her fashion line is truly remarkable. It's a testament to her strength and creative abilities."
When Bell's palsy is the cause of facial paralysis, an individual needs to be treated immediately with high-dose steroids and antiviral medications under the supervision of a physician. Each case of facial paralysis is unique and a multi-disciplinary approach helps assess the best treatments for the severity and longevity of a patient's facial paralysis.
"If a person is suffering from facial paralysis, he or she needs to be evaluated by a medical professional as soon as possible to determine the cause of the facial paralysis," Dr. Azizzadeh said. "Treatment should not be administered prematurely because the patient could be suffering from a stroke or have a tumor that's causing compression or destruction of the facial nerve. However, once the cause is determined, there are many beneficial treatments for patients who have facial paralysis."
To treat facial paralysis from Bell's palsy, Botox injections, neuromuscular retraining, and cutting-edge surgeries, such as selective neurolysis, are standard ways to help a person regain facial movement. Botox relaxes unwanted muscle movements and physical therapy helps aid the recovery process. Selective neurolysis releases the platysma muscle and decreases nerve activity in the nerves that counteract the smile mechanism so that the mouth can once again turn upward, restoring the patient's ability to smile.
"Masseter nerve transfer (or trigeminal nerve transfer) also has the ability to greatly improve facial reanimation for sufferers of permanent Bell's palsy or complete facial paralysis," Dr. Azizzadeh said. "The facial nerve and masseteric nerve are identified and sewn together under microscopic magnification. The masseteric nerve, which is used to activate chewing muscles, provides neural input into the paralyzed facial nerve, thereby restoring the facial muscle function and smile."
About Dr. Babak Azizzadeh
Since his extensive and prestigious training at Harvard Medical School, Dr. Azizzadeh has helped hundreds of people with varying degrees of facial paralysis. Dr. Azizzadeh is the Director of the Facial Paralysis Institute and one of the leading figures in the field of facial nerve paralysis. Dr. Azizzadeh has been recognized for his work on several occasions, and has appeared on the Oprah Winfrey Show and countless other media outlets.
Dr. Azizzadeh is trained in Facial Plastic & Reconstructive Surgery, as well as Head & Neck Surgery, giving him distinctive insight into facial nerve function and facial aesthetics. Dr. Azizzadeh also has extensive training in microsurgical facial reconstruction, which is often required for the treatment of people who are born with facial paralysis.
For more information, contact the Facial Paralysis Institute at (888) 499-0402.