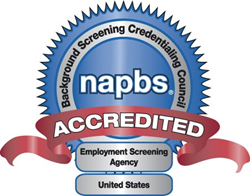 In the last several years, the demand for screenings performed by AAIM has grown dramatically, posting a nearly 200% increase over a four-year period
St. Louis, MO (PRWEB) June 06, 2014
The National Association of Professional Background Screeners (NAPBS®) Background Screening Credentialing Council (BSCC) announced today that AAIM Employers' Association has successfully demonstrated compliance with the Background Screening Agency Accreditation Program (BSAAP) and will now be formally recognized as BSCC-Accredited. Each year, U.S. employers, organizations and governmental agencies request millions of consumer reports to assist with critical business decisions involving background screening.
"In the last several years, the demand for screenings performed by AAIM has grown dramatically, posting a nearly 200% increase over a four-year period," said Phil Brandt, President and CEO, AAIM Employers' Association. "We focus on four key areas in our screening process: the assurance of compliance, fast turnaround, customer service and cost control."
Background screening reports, which are categorized as consumer reports, are currently regulated at both the federal and state level. Since its inception, NAPBS has maintained that there is a strong need for a singular, cohesive industry standard and, therefore, created the BSAAP. Governed by a strict professional standard of specified requirements and measurements, the BSAAP is becoming a widely recognized seal of achievement that brings national recognition to background screening organizations (also referred to as Consumer Reporting Agencies).
"This recognition will stand as the industry "seal," representing a background screening organization's commitment to excellence, accountability, high professional standards and continued institutional improvement," said Melissa Sorenson, Executive Director, NAPBS.
The BSCC oversees the application process and is the governing accreditation body that validates background screening organizations seeking accreditation. To become accredited, consumer reporting agencies must pass a rigorous onsite audit, conducted by an independent auditing firm, of its policies and procedures as they relate to six critical areas: consumer protection, legal compliance, client education, product standards, service standards, and general business practices.
For registration and pricing information, call 314-968-5360, visit http://www.aaimea.org, or email register(at)aaimea(dot)org.
About NAPBS®
Founded in 2003 as a not-for-profit trade association, the National Association of Professional Background Screeners (NAPBS) represents the interests of more than 700 member companies around the world that offer tenant, employment and background screening. NAPBS provides relevant programs and training aimed at empowering members to better serve clients and maintain standards of excellence in the background screening industry, and presents a unified voice in the development of national, state and local regulations. For more information, visit http://www.napbs.com.
About AAIM Employers' Association
Founded in 1898, AAIM Employers' Association is an association of over 1,600 employers throughout Missouri and Illinois. AAIM EA assists its large membership with significant challenges in human resource management by providing cutting-edge resources which help its members manage their people and processes. AAIM partners with company leadership and management in human resources by providing: topical research and information, technical guidance, training and HR consulting and pre-employment services. For more information, visit http://www.aaimea.org or call 314-968-3600.