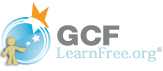 We have pioneered in the online learning space since 1999 by creating interactive, interesting and easy-to-understand lessons.
Durham, NC (PRWEB) June 09, 2014
Goodwill Community Foundation, a Durham-based, tax-exempt organization dedicated to creating opportunities for a better life, announces that GCFLearnFree has received a 2014 Top-Rated Award by GreatNonprofits.
"We have pioneered in the online learning space since 1999 by creating interactive, interesting and easy-to-understand lessons," says Rev. Dennis McLain, president, Goodwill Community Foundation. "This recognition further supports our goal of providing free online learning tools that people enjoy using. We know the best way to help people improve their knowledge is to build a site and tools that provide a positive engagement experience."
The recognition is based on the number of positive online reviews and was given to GCFLearnFree based on feedback and personal experiences shared by people who have used the site. From educators to people looking to improve their work marketability to learners seeking an increased understanding of a subject, GCFLearnFree is made possible through the funds raised from donations of gently used clothing and household items to any of the 37 GCF Donation Centers & Stores across eastern North Carolina.
While the Top-Rated Awards run through the end of October, GCFLearnFree was part of the inaugural group to qualify for the year. In addition, the organization has been added to the GreatNonprofits #GivingTuesdayGuide, an interactive guide to top nonprofits throughout the years that will be available to the public as the 2014 holiday season approaches.
Visit the GCFLearnFree website to learn more about its free online learning offerings.
About Goodwill Community Foundation (GCF®)
Goodwill Community Foundation (GCF®) continues to be a leader in an era of change by providing the training required for the emerging world where technology is integrated into everyday life. The mission of GCF® is to create and provide education, employment and life enrichment opportunities regionally, nationally and internationally for people who desire to improve the quality of their lives.
The Durham-based tax-exempt organization provides employment, fresh produce and volunteer opportunities, family services for parents with children with disabilities and free accounting services to youth programs across eastern North Carolina. GCFLearnFree.org and GCFAprendeLibre.org have provided free lessons for over 555,000 people in North Carolina since 2010 to improve their technology, math and English skills.
All GCF programs are funded through revenue generated from the value of donated items to 37 Goodwill Community Foundation stores throughout eastern North Carolina. GCF employs more than 300 people who earn an average of $20 per hour with benefits at these stores. For more information on GCF®, visit http://www.GCFGlobal.org.
About GCFLearnFree
Since 1999, GCFLearnFree has created and provided quality, innovative learning
opportunities to anyone who wants to improve the technology, literacy, and math skills needed to be successful in both work and life. By delivering more than 1,000 lessons to millions of people in more than 200 countries ABSOLUTELY FREE, GCFLearnFree has become a worldwide leader in online education.
A program of the Goodwill Community Foundation ® and Goodwill Industries of
Eastern NC Inc. (GIENC), all GCFLearnFree.org ® educational content is designed and produced in the GCF Global Learning ® building in downtown Raleigh.
About GreatNonprofits
GreatNonprofits is the leading site for donors and volunteers to find reviews and ratings of nonprofits. Reviews on the site influence 30 million donation decisions each year. For more information, visit greatnonprofits.org.