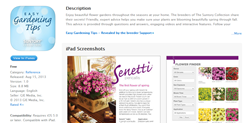 We created this app to help people be more successful gardeners so they can relax and enjoy their time among the flowers.
Tokyo, Japan (PRWEB) June 11, 2014
The most recent introductions to the garden aren't plants at all. They're apps. People are digging technology as they seek garden inspiration, advice and information.
The new summer edition of Easy Gardening Tips app from breeders of the Suntory Collection has just been released. It is more of a digital magazine than an app with suggestions for color combinations, engaging how-to videos, seasonal updates and new flower introductions.
The app gives advice on how to decorate a deck, create stunning containers and tips for coping with summer heat. Users can search for flowers by color, bloom time and conditions.
"Whether for practical, hands-in-the-dirt purposes or for drinking in the beauty of flowers, today's apps really fulfill gardeners' needs," says Masashi Matsumura from Suntory Flowers. "Our Easy Gardening Tips app provides both the expert information and the beauty gardeners want."
Finger Tip Gardening
The just released Summer Edition of Easy Gardening Tips is available now and includes:

Decorate a Deck— Designing three unique looks for one deck.
Easy-Care Containers—Stunning container designs for flowers that bloom all season.
Cool As a Cucumber—Coping with summer heat.
Saving a Taste of Summer—Canning and preserving summer vegetable harvests.
Green Walls—Installing a plant wall.
Red Hot – Using Sun Parasol mandevilla in and around landscapes.
Links, store locators, video advice, combination designs, the Flower Find and more information from experts at The Suntory Collection.
The Spring Edition included :

Pick the Perfect Palette—A guide to color and flowers.
Flower Finder—Search the best flower by sun exposure, bloom time and plant type.
Spring Garden Prep—Tips and tricks for this season.
Combinations Demystified—Ideas on how to pair plants for gorgeous containers.
Expert Advice Videos—Learn about everything from plants to planting to outdoor décor in these informational videos.
"We created this app to help people be more successful gardeners so they can relax and enjoy their time among the flowers," adds Delilah Onofrey, who represents Suntory Flowers in North America.
The Easy Gardening Tips app and publications are available as free downloads for the iPad from the App Store. To learn more about The Suntory Collection of beautiful flowers, visit http://www.SuntoryCollection.com.
About Suntory Flowers:
Since the groundbreaking introduction of Surfinia, the first vegetatively propagated petunias, to the world markets, Suntory has led the way in bringing innovative new varieties to market. These include Million Bells calibrachoas, Tapien and Temari verbenas, Summer Wave torenias and more recently Sun Parasol mandevillas and Senetti pericallis. From Suntory's origins as a beverage company in Japan, the company's goal is to create new products that enrich people's lives. Suntory Flowers' message for consumers is "Kantan, Kirei, Jobu," which means "Easy to Grow, Gorgeous, Longevity" in Japanese. Suntory guarantees a plant's garden performance and offers consumers the chance to enjoy beautiful plants. Enjoy Suntory's "top-shelf" varieties.