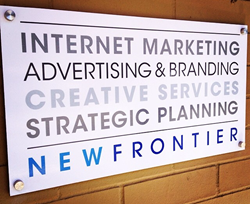 Glen Ridge, New Jersey (PRWEB) June 09, 2014
The 46th Annual Jersey Awards Dinner was held in Glen Ridge, New Jersey on June 4th, 2014, to recognize top agency work throughout the state in categories such as branding, advertising, creative services, internet marketing, social media and PR.
In its first year as a recognized agency, New Frontier, a small business marketing agency based in downtown Millburn, received three awards, winning honors for Best Logo/Trademark design, Best Consumer Magazine Campaign, and Best Book Cover Design. David Sorkin, Principal and Owner of New Frontier, stated, "We are honored and excited to be recognized among New Jersey's top advertising and marketing agencies. Obviously, as a young agency, it means a lot to have our team's hard work and creative efforts recognized by our peers."