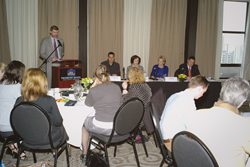 "We are coming off two great seasons in terms of bookings and are seeing double-digit growth for summer travel over last year," said Dorothy Dowling, senior vice president of marketing and sales for Best Western International.
TORONTO (PRWEB) June 06, 2014
After a particularly long and cold winter, Canadian travellers are ready to get back on the road in larger numbers this summer, according to senior travel executives at the annual Leisure Travel Summit in Toronto. The four panelists from Best Western International, Google, CAA and Tourism Industry Association of Canada (TIAC) discussed the upcoming summer travel season and key trends in leisure travel, including women as the travel decision maker, multigenerational travel and the importance of mobile for travel decisions.
To view and download the Leisure Travel Summit highlight video associated with this release, please visit: https://www.dropbox.com/s/crz1rxe10ci9x6y/bw-to-travel-canada2_1.mp4?n=74323119
"When it comes to Canadian 'intentions' to travel this summer, it appears that the same number of us intend to take a summer vacation trip as last year but the lower Canadian dollar may keep more of us here in Canada while the lingering psychological effects of the Polar Vortex are pushing an increased number of Canadians to search for some guaranteed sunshine this summer in the Caribbean and Mexico," said Brenda Kyllo, vice president of travel at CAA.
"We are coming off two great seasons in terms of bookings and are seeing double-digit growth for summer travel over last year," said Dorothy Dowling, senior vice president of marketing and sales for Best Western. "Stays are up 10 percent at Canadian Best Western properties and travellers are staying for longer with room nights up 17 percent."
Dennis Morgenstern, head of industry travel at Google noted that consumers "tell" Google where they want to go through their search queries and currently Google is seeing strong search traffic for sunny destinations like Cancun, Miami and Orlando, perhaps as people were dreaming about warmer destinations in the midst of the polar vortex. A strong Euro also is keeping people in this hemisphere.
Providing a perspective on in-bound travel, David Goldstein, president and CEO of TIAC, commented that they've seen strong domestic business for the past three years, and they expect that to continue into the summer. Goldstein is especially optimistic about travel from Japan bolstered by new flights between Toronto and Tokyo, but in order to maintain the positive momentum, Canada needs to find ways to incentivize foreign travel and reduce reliance on domestic business.
"Canada is doing a very good job in attracting key markets and especially emerging markets like India, Brazil and Mexico," said Goldstein. "Our biggest challenge is reigniting the U.S. travel market and selling the Canada brand. Barriers – real and perceived – have been removed, U.S. passport ownership has doubled and the dollar doesn't hurt. Everything is pointing in the right direction."
Among leisure travel trends, the panelists pointed to women as decision makers and multigenerational travel as drivers within the Canadian market.
Kyllo commented that at CAA, they are seeing a lot of women-only tours, as well as solo traveller's clubs, because people want like-minded companions to travel with. Dowling shared data from a new Best Western Female Travel Summer Survey with Wakefield Research that revealed 89 percent of Canadian women put the needs of others over their own when planning a vacation.
"We've always believed that women have been the most influential decision maker for family travel, but what we're seeing is that women are putting others first," said Dowling. "For us at Best Western, it's important to establish how the entire family can benefit from that vacation trip since we know that's what women are looking for."
Goldstein added that due to higher levels of disposable income among grandparents, there has been an uptick in multigenerational travel and they are seeing several packages built around different generations traveling together. The panelists all agreed that multigenerational travel will only continue to grow. "This continues to be a great news story for the Canadian travel agents," said Kyllo. "The more expensive, more complex, more exotic and the more people travelling together – the more likely they are to value the services of a professional travel planner rather than go it alone online."
In regards to technology's impact on travel, Morgenstern shared insights from Google that shows travelers are using multiple screens when researching travel and even to plan the same trip.
"At Google, we are trying to make it easier for travellers," said Morgenstern. "We want to give consumer the information they want, when they want it and where they want it."
"At Best Western, we focus on four screens, with the first screen being the television," said Dowling. "TV is a very important medium for us. The average millennial consumes 18 hours of media per day because they are consuming across multiple devices, and that number is expected to rise for other demographics as well."
ABOUT BEST WESTERN INTERNATIONAL, INC.
Best Western International, Inc., headquartered in Phoenix, Ariz., is a privately held hotel brand made up of more than 4,000* BEST WESTERN®, BEST WESTERN PLUS® and BEST WESTERN PREMIER® hotels in more than 100* countries and territories worldwide. Now celebrating 68 years of hospitality, Best Western welcomes hundreds of thousands of guests nightly. Best Western provides its hoteliers with global operational, sales, marketing and promotional support, and online and mobile booking capabilities. More than 20 million travelers are members of the brand's award-winning loyalty program Best Western Rewards®, one of the few programs in which members earn points that never expire and can be redeemed at any Best Western hotel worldwide. The brand's partnerships with AAA/CAA and Harley-Davidson® provide travelers with exciting ways to interact with the brand. In 2013, Best Western earned our highest level of brand recognition, including our fifth AAA/CAA Hotel Partner of the Year award, second Compuware Best of the Web Gold award, fourth No. 1 ranking in Brand Keys Consumer Loyalty Engagement Index for midscale hotels and seventh TTG Asia Best Mid-range Hotel Brand. Forty-one percent of Best Western hotels worldwide won TripAdvisor Certificates of Excellence for customer satisfaction.
For more information or to make a reservation, please visit bestwestern.com.
*Numbers are approximate and may fluctuate.