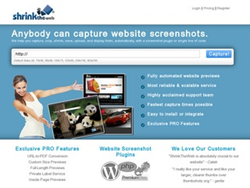 The grand prize is $1,000.00 USD cash.
Atlanta, GA (PRWEB) June 10, 2014
In 2011, ShrinkTheWeb began working with the developers at Boonex to create a seamless integration of their popular automated website screenshot service into the Boonex Dolphin CMS. In an effort speed up the process and to diversify the solutions to some of the on-going issues Dolphin users were encountering, ShrinkTheWeb launched its first developer contest.
Now in 2014, after moving to cloud-based storage, revamping their billing system, and overhauling their capture generators, ShrinkTheWeb has decided to launch more developer contests. According to our source at ShrinkTheWeb, the purpose of these contests is to inspire developers to create more free public integrations utilizing their screenshot service and to improve some of the already existing plugins.
To kick things off, ShrinkTheWeb chose to start with revamping their already popular PremiumPress integration. "This will be the first of what we hope to be many contests," says Duane Roumel of Customer Satisfaction. "We plan to launch a series of contests to expand our reach into social media and other markets. We welcome developers of all types to check out our service to see how they can make use of it."
According to their entry form, cash prizes will be awarded to the top three winners. The grand prize is $1,000.00 USD cash and 2nd and 3rd place will take home $250 USD cash each. To learn more about these contests go to http://www.shrinktheweb.com/contests. There you will learn about entry details, contest instructions, and timelines. In the world of open source code and free software contribution, it's nice for developers to have the opportunity to be rewarded monetarily for their creativity.
About ShrinkTheWeb™
ShrinkTheWeb offers a service to fully automate the capture and delivery of web page screenshots. The company was founded in 2009 and has been a driving force in the emerging automated website screenshot marketplace. ShrinkTheWeb has always held fast to the idea that website screenshots will eventually become a staple of the Internet. They will become a commonplace replacement or enhancement to simply showing a link. They are the natural evolution to linking and referencing on the web.
For more information, please visit http://learn.shrinktheweb.com.