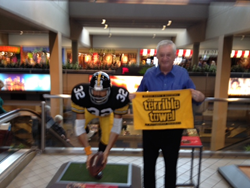 "Ron LeGrand is known in the investor world as The Millionaire Maker."
Pittsburgh, Pennsylvania (PRWEB) June 09, 2014
Ron LeGrand will be speaking in Pittsburgh, PA on June 14th at the Pittsburgh Real Estate Investors Association educational seminar. During this one day seminar, Ron will be doing something exciting; he will be reviewing student real estate deals live on stage.
Ron LeGrand has spoken in all 50 states to crowds as large as 20,000 people. He has shared the stage as a keynote speaker with real estate legends Donald Trump and Robert Kiosaki. Ron has been teaching everyday, average people how to make money investing in real estate with no money or credit for over 20 years. Many of Ron's students have gone on to become successful real estate investors on their own. So many in fact that Ron LeGrand is known in the investor world as "The Millionaire Maker." A partial list of Ron LeGrand students who went on to become successful real estate investors and nationally known real estate educators would include names like Robyn Thompson, Dave Lindahl, Jay Conner, Alan Cowgill, Lance Edwards, Lee Phillips, Kathy Kennebrook, and many others.
During this one day event, Ron will be teaching attendees how to become wealthy by quick turning real estate even in a bad market. Using Ron's techniques, students can buy and sell property with little or no money at risk. Ron will cover how to find and evaluate real estate. He will also cover how to purchase or control the property by using creative financing and deal structuring. This event is not designed to be a motivational speech, it is structured in such a way that students will have a basic understanding of how professional real estate investors can buy property anywhere in the United States with no money and bad credit.
At least one of Ron LeGrand's successful students will be in attendance at the Pittsburgh event. Josh Caldwell is the President of the Pittsburgh Real Estate Investors Association. Josh will be on hand to assist and MC the event. As a direct result of Ron LeGrand's educational courses, Josh has become a nationally known real estate investor in his own right. Josh is also a radio talk show host, author, and mentor to real estate students across America, and owner of Pittsburgh real estate flip company Noble Rehabbers.
Tickets for this all day event are on sale now. To claim your ticket before the event sells out, go to http://Pittsburghreia.com. Tickets are only $29. Seating is limited to the first 200 people.
The Pittsburgh Real Estate Investors Association is a club of real estate investors who come together to learn more about real estate investing. This dynamic club is one of the fastest growing real estate investing clubs in America. A key ingredient in this growth is that the club is able to attract top flight real estate educators like Ron LeGrand.