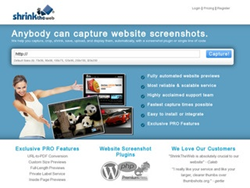 ShrinkTheWeb started a contest to get more developers involved.
Atlanta, GA (PRWEB) June 17, 2014
In order for a service that relies on integration to succeed, it must provide its users with an elegant programing outline to make integration easy. When a developer is searching for a service that requires custom integration, there is no bigger turn off than convoluted, poorly documented, and otherwise poorly written sample code. Time is literally money when it comes to implementation. The longer it takes to incorporate a new service or feature into an existing system, the more expensive it becomes.
The developers at ShrinkTheWeb had these concerns in mind when they began working on a distributable sample code. Starting with PHP, they built a framework that allows developers to create integrations that take advantage of the features that the automated screenshot provider has to offer. After completing the successful PHP sample code, the focus was shifted to other programming languages. In an effort to more quickly spread the word and to get support from the developer community, ShrinkTheWeb started a contest to get more developers involved in the process of developing new sample code to add to their list of certified integrations.
It wasn't long before CMS theme developers took advantage of the completed sample codes and began to integrate the website screenshot service. According to their integrations page, ShrinkTheWeb has developed, commissioned, or certified sample code in four different programming languages. The list consists of PHP, Ruby on Rails, Smarty, and Perl. Some very powerful themes and integrations have already been created using some of these programming languages.
"We are excited to see how the community grows and what frameworks are added over the next few years," comments Brandon Elliott, CEO of ShrinkTheWeb. The primary focus has been on the PHP sample code, since PHP is so widely used. However, ShrinkTheWeb relies heavily on community contributors for the other sample frameworks. Fortunately, there is a generous and growing community of ShrinkTheWeb fans who devote their time to free non-PHP frameworks for aspiring integrators and end-users.
About ShrinkTheWeb™
ShrinkTheWeb offers a service to fully automate the capture and delivery of web page screenshots. The company was founded in 2009 and has been a driving force in the emerging automated website screenshot marketplace. ShrinkTheWeb has always held fast to the idea that website screenshots will eventually become a staple of the Internet. They will become a commonplace replacement or enhancement to simply showing a link. They are the natural evolution to linking and referencing on the web.
For more information, please visit http://learn.shrinktheweb.com.