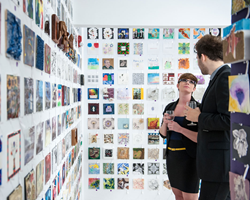 We are excited to partner with Rochester Optical as they introduce Google Glass and Smart Solutions...
Rochester, NY (PRWEB) June 09, 2014
[Rochester Optical supports its local community in numerous ways including raising awareness and money for RoCo (Rochester Contemporary Art Center). The well-known optical company is hosting a community party at RoCo at 137 East Avenue in Rochester, NY where visitors can see thousands of original works of art that are 6"x 6". The artwork is sent in from artists around the world, and every piece is on sale for $20. The trick is that no one knows the artists' names. The names won't be revealed until a later date.
Rochester Optical's special event on June 16th includes food, drink, and music including a live broadcast from 98PXY with Scott Spezzano. Rochester Optical is causing a stir in the community by holding a raffle for Google Glass at the RoCo 6x6 event. Google Glass is the popular wearable computer that is worn like a pair of glasses, but with no lenses. A portion of the proceeds of the Google Glass raffle will go to Rochester Contemporary Art Center. The same night, Rochester Optical will show off their Smart Solution brand: Smart GOLD Lenses and Smart Frames that are specifically optimized for Google Glass wearers who need prescription lenses. Rochester Optical's Smart Solutions are the only lenses and frames available that are made with a lens within a lens.
"RoCo is grateful for Rochester Optical's generous support of 6x6," states Bleu Cease, Executive Director/Curator at RoCo. "We are excited to partner with Rochester Optical as they introduce Google Glass and Smart Solutions to Rochester, NY. I think many of our visitors and members are curious about this technology and look forward to seeing who wins."
Rochester Optical is a diversified manufacturer of ophthalmic lenses, eyewear, and is a full service wholesale digital optical laboratory with over 80 years of experience. They continue to serve eye care professionals and corporate customers with an eye on service and innovation. Rochester Optical is an independently owned and operated optical lab and manufacturer, and is not affiliated with Google or Google Glass.
For more information:
Wendy Emerson 585-254-0022
wendy.emerson(at)rochesteroptical.com
http://www.rochesteroptical.com