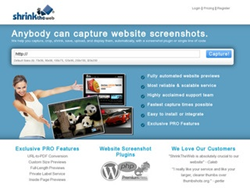 ...is forward thinking enough to be prepared for the growing use...
Atltanta, GA (PRWEB) June 24, 2014
For most companies, supporting language translations can be as easy as publishing a few translated pages or perhaps relying on 3rd party translators. For ShrinkTheWeb it was not that straight forward. For the automated web page screenshot provider, it was a two part problem. Not only did the developers have to figure out how to make sure sites in other languages were captured in their native text but also support URLs that contain non-English characters.
ShrinkTheWeb's automated screenshots are used to serve many purposes. It is for this reason the developers at ShrinkTheWeb put the time in to make certain that users from all countries can use use website screenshots in the language of their choice. Rather than ignoring the need and leaving these types of request as unsupported, the developers went the extra mile to deliver something not offered by most other service providers.
Once ShrinkTheWeb became more popular in countries outside of the United States, The started to receive requests to also support pages written in Farsi, Hebrew, and many others. The service already supported several languages, such as German and Italian, but more widespread support was needed. ShrinkTheWeb quickly implemented a means to support many popular languages and left in the ability to add others once requested.
At the same time, ShrinkTheWeb also decided to add full support for UTF-8 URLs and International Domain Names (IDNs). This makes it possible to capture so many more URLs than competing services and is forward-thinking enough to be prepared for the growing use of these kinds of website URLs. While it may be impossible for an automated web page screenshot service to be able to capture every type of URL or website, it would seem that ShrinkTheWeb continues to pave the way by tackling these types of challenges.
About ShrinkTheWeb™
ShrinkTheWeb offers a service to fully automate the capture and delivery of web page screenshots. The company was founded in 2009 and has been a driving force in the emerging automated website screenshot marketplace. ShrinkTheWeb has always held fast to the idea that website screenshots will eventually become a staple of the Internet. They will become a commonplace replacement or enhancement to simply showing a link. They are the natural evolution to linking and referencing on the web.
For more information, please visit http://learn.shrinktheweb.com.