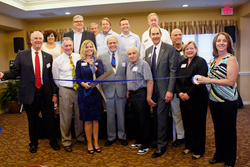 Peoria, AZ (PRWEB) June 06, 2014
Silverado Memory Care Community in Peoria, Arizona celebrated its grand opening on June 5 with a ribbon-cutting moment that included Peoria Vice Mayor Ron Ames and the Peoria Chamber of Commerce, as well as the community's first residents and their families. The Silverado team – including 24-hour licensed nurses, a medical director and leaders with proven expertise in memory care – creates an environment that provides a quality of life that is unmatched anywhere in the area.
"When families first walk in the door, the joy they express is a testament to Silverado's high-quality standards that are a result of the most passionate staff – a staff dedicated to enriching the lives of people with all types of memory care needs," says Silverado President, Chairman and CEO Loren Shook. "Since we opened our first community in 1997 we continue to be energized by changing lives and hearing stressed family members say things like, 'thank you for giving me my life back, you are my lighthouse in the storm, and I can sleep again knowing my mother is safe with Silverado.'"
Silverado Medical Director Walter Nieri – who also serves as Director of the Sun Health Research Institute's Center for Healthy Aging in Sun City, Arizona – addressed attendees about Silverado's state-of-the-art services. The new community features progressive design elements that cater specifically to memory-impaired residents:

Numerous innovations help loved ones regain confidence, such as memory boxes; each resident is given a memory box that families fill with keepsakes to showcase the identity of their loved one and to help them independently find their room.
Residents experience freedom and feel success again with access to expansive and secure outside spaces, engaging music programs, cooking clubs, gardening, art and more.
The four-acre property's outside space includes gardens, a gazebo, a putting green, a playground for visiting children and walking paths – a perfect place to walk the community dog.
The community caters to people at any stage of a memory-impairing disease through different "neighborhoods" that address residents' specific needs, abilities and interests.
Silverado Peoria will serve about 90 people with memory impairments under the leadership of Administrator Amber McCord, who will oversee a staff of nearly 100 associates. McCord brings almost 20 years of industry experience to the new community, which is located at 13391 N. 94th Drive, Peoria, AZ 85381. Learn more at silveradocare.com/peoria.
###
About Silverado
Silverado was founded in 1996 with the goal of enriching lives of those with memory loss by changing how the world cares for the memory impaired and perceives the cultural stigma of cognitive decline. Silverado has grown to become a nationally recognized provider of home care, memory care assisted living and hospice services. With locations in eight states – including Arizona, California, Colorado, Illinois, Texas, Utah, Washington and Wisconsin – the company delivers exceptional care and unmatched service to address the spectrum of changing needs, for individuals and families alike. To learn more about Silverado, please visit silveradocare.com or call (866) 522-8125.
Media Contact:
David Gill
(714) 624-2550
dgill(at)silveradocar(dot)com