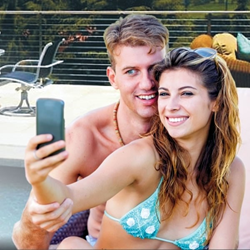 Additional Awards Include: Most Creative Selfie, Best-Looking Deck and Please-Help-My-Deck-AGS!
Bainbridge Island, Washington (PRWEB) June 06, 2014
AGS Stainless wants you to whip out your cell phone, strike a pose on your backyard deck and share your best #DeckingSelfie to win up to a $5,000 cable railing package just in time for summer! Beginning today, AGS Stainless – the well-revered manufacturer of custom-made, prefabricated stainless steel railing systems, is launching a creative and fun photo contest where anyone can win by simply taking a 'selfie' on their deck, then uploading it onto the official #DeckingSelfie Photo Contest page using the hash-tag #DeckingSelfie.
The entry with the most "votes" on their photo by July 7th, 2014, receives a custom-made stainless steel cable railing package directly from AGS Stainless – up to a $5,000 retail value. Additional awards will be given, as judged by AGS Stainless #DeckingSelfie experts, for:

Best-Looking Deck
Most Creative Selfie
Please-Help-My-Deck-AGS
The proliferation of the 'selfie' – a type of self-portrait photograph, typically taken with a phone, digital camera or tablet for the purpose of uploading onto social media sites – from its rise in popularity after becoming the 2013 "Word of the Year" by Oxford English Dictionary to a celebrity-studded selfie orchestrated by Ellen DeGeneres during the 86th Academy Awards broadcast that became the most retweeted photo of all-time, is now helping improve someone's summer decking season with a beautiful new railing system compliments of AGS Stainless.
"Everyone enjoys a good selfie…some more than others, so if you've got a camera and a deck – now is the perfect time to send us your best one!" grins Kevin T. Harris, Director of Sales & Marketing at AGS Stainless. "Our hope is this contest is easy and fun to enter while showcasing some great-looking decks, decks that could use some love or just some very creative #DeckingSelfies – whatever to capture attention and the most votes."
Here's how the #DeckingSelfie Photo Contest works:
1. Post your photo to the #DeckingSelfie Facebook App, or upload your photo easily to the #DeckingSelfie Contest Page.
2. Invite friends, family and colleagues to "vote" for your entry – and more importantly – share and comment on your photo.
3. Sit back and watch your #DeckingSelfie photo gain popularity and the recognition it deserves.
4. The #DeckingSelfie photo with the most "votes" by July 7th, 2014, receives a custom-made stainless steel cable railing package directly from AGS Stainless – up to a $5,000 retail value.
5. See #DeckingSelfie Contest Page for all rules & restrictions.
Best known for its Clearview® line of stainless steel railing systems, AGS Stainless is a company that prides itself on providing beautiful stainless steel railing systems that have long been well-revered throughout the industry, is now looking to expand its social objective with this first-ever #DeckingSelfie Photo Contest as a way to share ideas, highlight creativity and spark conversations about decking – all while having some good-natured fun in the process.
And for those ultimately wanting a stainless steel railing system that adds beauty to any project, the Clearview® design and ordering process is straightforward and simple: sketches and approximate dimensions are submitted to AGS Stainless where CAD drawing and all details of your system are created by a member of our design team. An AGS Stainless design expert works directly with you to ensure every detail is just right, keeping you up-to-date as your customized project progresses from design through assembly and shipping. Each railing system is prefabricated at the AGS Stainless factory located in the Pacific Northwest to provide prompt delivery, attentive service and ease of installation – ensuring every individual nut, bolt and handrail fitting is just right.
"The way we see it, the ideal contestant is someone who's creative, willing to have a bit of fun and wants to show the world their best #DeckingSelfie," added Harris. "We want to showcase all types of 'selfie' entries, have a bit of fun and get people outside enjoying their backyard deck now the season is upon us…so may the best 'selfie' win!"
About AGS Stainless: AGS Stainless Inc., (AGS) manufactures the Clearview® line of Railing Systems. For more than two decades AGS Stainless has been a factory-direct supplier of custom-made, prefabricated stainless steel railing systems. With their innovative component-based design and all stainless steel construction, Clearview® railings eliminate the need for any on-site welding or cutting of posts and railings. AGS' design department generates CAD (computer-aided design) documents for each railing project insuring precise, project-specific fabrication. Each Clearview® railing system is made to order to the highest quality standards, and delivered to you ready to be installed-with a few simple hand tools. We offer stainless steel components in either high-quality grade SAE 304 or marine grade SAE 316, and our infill options are: stainless steel cable, stainless steel horizontal bar or tempered glass panel. For more information, visit: http://www.AGSstainless.com or call 888.842.9492.
MEDIA: To download hi-resolution images of AGS Stainless products, visit: AGS Media Site (http://agsstainless.com/press-media/).