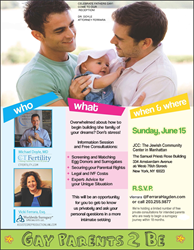 We could not have done any of this without you, Thank you for the light that helped us stay on the right path. Our dreams have come true.
New York, NY (PRWEB) June 09, 2014
On Father's Day, June 15, 2014, CT Fertility and Worldwide Surrogacy Specialists will host a Reception and Surrogacy Presentation to celebrate fatherhood through surrogacy.
You will hear these experts discuss affordability, egg donation, surrogacy law, insurance coverage for maternity and newborn care, choosing the location of your surrogate (state-of-birth law), the IVF process and pregnancy rates.
Attorney Vicki Ferrara owns and operates Worldwide Surrogacy Specialists, LLC through which she has helped many couples and individuals have children. One of her achievements is the landmark court decision of Raftopol v. Ramey , Connecticut Supreme Court case that essentially created a new way to establish legal parentage through surrogacy, by being a party (Intended Parent) to a valid gestational agreement regardless of genetic connection to the child to be born to the gestational surrogate. Attorney Ferrara appears frequently in courts throughout the State of Connecticut for all matters in involving assisted reproduction law, pre-birth orders, and adoptions, including co-parent and step-parent adoption matters and she is a member of the nationally known American Academy of Assisted Reproduction Attorneys.
As the founder of CT Fertility, Dr. Doyle has practiced Reproductive Medicine in Connecticut since 1991. He received his undergraduate degree in Biology and Psychology, with Honors, magna cum laude, from Brown University in 1980. In 1985, he earned his medical degree from the University of California, San Francisco, where he received numerous academic honors, including selection to the national medical honor society, Alpha Omega Alpha.
Dr. Doyle has authored numerous articles, research papers and book chapters covering a broad area of fertility related topics, and is a frequent speaker at medical meetings and conferences. He has assisted a broad range of couples and individuals both from the U.S. and internationally with many success stories of becoming parents through egg donation and surrogacy.
The event will be held from 4:00 pm to 6:00 pm at The JCC in Manhattan, 334 Amsterdam Avenue at West 76th Street. New York, NY. For more information contact vferrara(at)ferrarahayden(dot)com or call 203.255.9877.