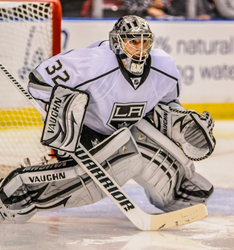 Denver, CO (PRWEB) June 07, 2014
Tight, tough, tense: That has been the story of the NHL playoffs this year. Fans have already savored a record number of overtimes in the first round and 20 in all. Then, last Wednesday night, there was yet another thrilling OT nail-biter to enjoy.
With over 18,000 in the stands for Game 1 of the Stanley Cup Finals at the Staples Center, Los Angeles jumped out to a 1-0 series lead when star forward Justin Williams scored 4:36 into overtime to net the Kings a 3-2 home victory.
Williams came into this Stanley Cup Final with a personal 7-0 record in playoff Game 7's, racking up seven goals and 14 points in the process, an NHL record. At the other end of the ice, goaltender Jonathan Quick made 25 saves and the Kings moved one step closer to their second Stanley Cup title in the last three years.
Despite jumping out to a 2-0 lead in the first period and receiving an outstanding performance from net-minder Henrik Lundqvist, who made 40 saves, New York could not hold on as the pesky Kings rallied, eventually outshooting the Rangers 43-27.
"The 2014 NHL Playoffs have been one of the most entertaining on record. Both finalists have proven their worth in the first three rounds, as well as Game 1 of the Finals and fans are showing their appreciation," said Marta Ault at online ticket marketplace BuyAnySeat.com.
"That's why we're proud to offer fans the most comprehensive and continuously refreshed selection of sports tickets online, with a worry-free guarantee to protect their purchase," added Ault.
"To access the complete inventory of discount NHL Stanley Cup Finals tickets we have available, as well as the entire inventory of seating options at each venue, fans can go to BuyAnySeat.com and click on the Sports header – then select their event and tickets."
New York and Los Angeles are the two largest sports markets in the United States and the icy face-off between the Rangers and the Kings is proving to be among the top ticket sellers nationally.
The big market match-up is also a serious achievement for sports in the nation's two largest cities. The last time a New York and Los Angeles team clashed in a top sports championship was when Major League Baseball teams the New York Yankees and the L.A. Dodgers met in the 1981 World Series.
NHL championships have been similarly rare for the two cities. The Kings won their first and only Stanley Cup in 2012, while the Rangers won their last in 1994. Prior to that seven-game series win over the Vancouver Canucks, New York had not brought home the Stanley Cup since 1940.
Both the Kings and the Rangers reached peak capacity for the regular season and demand has only increased as the playoffs have progressed. Los Angeles hockey fans packed the Staples Center to almost 108% capacity with approximately 19,000 people in attendance for each regular season game. The Rangers, meanwhile, averaged similar numbers with 18,000 seats filled, marking the full 100% capacity.
The Staples Center, opened in October of 1999, seats up to 18,118 for ice hockey and arena football, 19,067 for basketball and roughly 20,000 for concerts or other events. It is also home to Los Angeles Lakers and Los Angeles Clippers, as well as the Kings and Los Angeles Sparks WNBA squad. It is the only arena in the NBA shared by two teams.
The Stanley Cup Finals will run through at least Wednesday night and likely longer barring a sweep by the Kings. Game 2 is set for tonight in Los Angeles before the series heads east to New York for Games 3 and 4 on June 9 and June 11. Games 5 and 6 return to L.A. on June 13 and 16. A potential Game 7 in Los Angeles, if necessary, is currently pegged for June 18, 2014.
To shop for discount NHL Stanley Cup Finals tickets, visit BuyAnySeat.com. To save to even more, enter coupon code "BAS2014" during checkout.
About BuyAnySeat.com: An online ticket marketplace, BuyAnySeat.com connects sports, theater and other live entertainment fans to an extensive network of ticket sellers worldwide. The site's simplified listings and navigational tools enable shoppers to easily locate, compare and purchase inexpensive, discounted or lower-priced tickets to virtually all advertised sports and entertainment events around the globe.
The ticket marketplace, which is PCI-compliant and Norton Secured, also provides customers with a complete Worry-Free Guarantee on all ticket purchases. Based in Denver, Colorado, BuyAnySeat.com is a subsidiary of Denver Media Holdings. For more information, please visit http://buyanyseat.com.