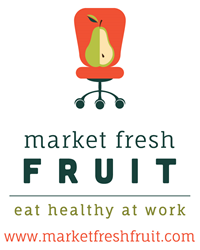 Men in the office are much more willing to try new eating behaviors.
Seattle, WA (PRWEB) June 10, 2014
Did you know that men typically experience a higher rate of disease than women? But there is positive news according to Tom O'Connor, owner of Market Fresh Fruit in Seattle, Washington. Through a balanced diet of fruits and vegetables, and with regular exercise health risk factors can be reduced.
"Everyone knows that men can't be told to stop eating junk food," said O'Connor, who offers fresh fruit delivery to offices in the Seattle area. "But they can be "coaxed" towards healthy eating. Fresh, delicious fruit at work is an important step."
O'Connor adds that coworkers can also help promote healthy eating by just mentioning food like a fresh peach, or an apple. "Men in the office are much more willing to try new eating behaviors," he said. "Eating more fruit drops the risk of lifestyle diseases. Plus fruit-at-work boosts mental focus and productivity. It's an effective way to help men experiment with a healthy diet."
"There is a silent health crisis in America," said Dr. David Gremillion in a recent report on the Men's Health Network. Gremillion warned about the current state of men's health. "It's that fact that, on average, American men live sicker and die younger than American women."
Market Fresh Fruit is a Seattle, WA-based company that delivers premium quality, local fruit to the workplace. Since 2010, Market Fresh Fruit is Seattle's only taste-tested office fruit delivery service and is recommended by clients at Fisher Radio, Creative Circle Staffing, and Crane Aerospace. Market Fresh Fruit is owned by Tom O'Connor. Every week, their Fruit-at-Work program delivers just delicious fruit to over 8,000 Seattle area workers helping employers increase productivity and morale, while lowering employee benefit costs by offering workers a healthy snack over candy or empty white carbs like muffins or bagels.
For more information on Market Fresh Fruit and for a free fruit tasting, please contact Tom O'Connor at 206-304-2464. Also visit the website at marketfreshfruit.com for more information.