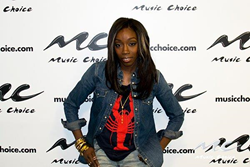 New York, NY (PRWEB) June 11, 2014
Starting today, Music Choice, the multi-platform music video network, will feature a top level ESSENCE Festival ™ category on Video On Demand for the first time. The Music Choice folder features video's and original content from artists performing at this year's ESSENCE Festival ™ including Trey Songz, August Alsina, K. Michelle, Sevyn Streeter, Mary J. Blige, Nas and many more! The folder will be available nationally for FREE to over 57 million customers from June 2 – June 29, 2014 on Music Choice On Demand. (Directional: Music Choice On Demand> Essence Festival)
Folder highlights include a selection of music videos and Music Choice Original programming including:

Estelle Hosted Video Playlist
Jill Scott Essence Interview
PJ Morton "Primed" new artist feature
Charlie Wilson "Our Past is Our Future" special
Additionally, the folder will also contain two ESSENCE Festival ™ video playlists.

"Main Stage" (6/2 – 6/15) - featuring Mary J. Blige, Jill Scott, Charlie Wilson and Tank.
"Superlounge" (6/16 – 6/29) - featuring emerging acts such as Sebastian Mikael and PJ Morton.
During the ESSENCE Festival ™, Music Choice R&B Soul Music Channel will also feature a 1-hour block on the channel solely featuring artists who are performing at Essence Festival. The block takes place each night from July 4th to July 7th at 11pm EST.
Post festival, Music Choice will also feature a special 30 minute feature entitled: Essence at 20. The On Demand special will be available starting July 14, 2014 on Music Choice On Demand.
For additional information on Music Choice, log on to http://www.musicchoice.com.
About Music Choice:
Music Choice, the multi-platform video and music network, delivers its music programming to millions of consumers nationwide through their televisions, online and mobile devices. Music Choice programs dozens of uninterrupted music channels; produces originals that feature today's hottest established and emerging artists; offers thousands of music videos; and launched Music Choice Play, the music video, lifestyle and entertainment network for Millennials. For additional information log on to http://www.MusicChoice.com | Twitter: @MusicChoice | Facebook: http://www.facebook.com/MusicChoice.