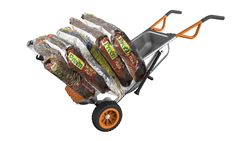 WORX tool innovations make great Father's Day gifts, including the WORX AeroCart, WORX SD SemiAutomatic Driver and WORX 20V MaxLithium GT 2.0 Trimmer/Edger/Mini-mower.
Charlotte, N.C. (PRWEB) June 09, 2014
The new multi-purpose WORX AeroCart will lighten Dad's load by optimizing leverage and quickly converting into eight different cart types. In wheelbarrow mode, AeroCart concentrates the center of gravity over two oversized, flat-free tires to make lifting 200 lbs. feel like 17 lbs.
AeroCart quickly transforms into a hand truck by pulling a release knob, folding up the legs until they lock and folding down the front dolly plate. Drop-down extension arms convert AeroCart into an extended dolly for hauling bags of mulch or straw bails weighing up to 80 lbs. Carry large potted plants and shrubs by using the adjustable mesh with cinch strap accessory. Plus, a webbed sling accessory can be used to transport boulders and heavy odd shaped lawn ornaments.
AeroCart features a cylinder holder for moving propane tanks and water-cooler jugs and a refuse bag holder for grass clippings, leaves and yard debris. Also, by attaching a 1-7/8 or 2 inch receiving ball (not included), AeroCart can be used to jockey trailers up to 1,000 lbs.
AeroCart needs just 15 inches of space from the wall for upright storage. Handles are removable for transport in a car, trunk or other vehicle. The WORX AeroCart (WG050, $159.99) and optional accessories Wagon Conversion Kit (WA0228, $79.99), Snow Plow (WA0230, $49.99) and Watering Bag (WA0229, $19.99) are available at http://www.worx.com.
Dad may want to carry the WORX SD SemiAutomatic Driver in a holster rather than his toolbox. This one-of-a-kind, cordless screwdriver has a six slot revolving chamber to rotate bits in and out as needed. Dad can shift from slotted to Phillips to Torx® to square-recess bits by simply sliding the magazine cover back, then forward. There's even a screw-starter bit to drill pilot holes. The kit includes the SD Driver, two bit cartridges, 12 hex-shank bits and a 5-hour charger for the 4-volt lithium-ion, built-in battery. The WORX SD SemiAutomatic Driver (WX254L, $39.99) is available at http://www.worx.com and other website, including Lowe's and Menards, as well as regional hardware stores and home centers nationwide.
The WORX 20V MaxLithium GT 2.0 Trimmer/Edger/Mini-mower is a powerful grass trimmer, precision edger and mini-mower all in one. The lightweight, cordless tool has nearly twice the battery capacity and cuts a 2-inch wider swath (12 inches) than its predecessor. It also features a longer adjustable, telescoping shaft to match the user's height, and two wheel positions. One wheel position is for edging while the other, located at the rear of the guard, raises the trimmer 3 inches off the ground to function as a mini-mower. The mini-mower is handy for cutting narrow strips of the lawn.
The head of the GT Trimmer has a ratcheting mechanism that allows the user to tilt the trimmer's shaft from 0 to 90° for trimming under decks, shrubs and other hard-to-reach areas. With a twist of the cutting head, it converts into a walk-behind wheeled edger. A pair of wheels helps make a sharp cut line along sidewalks, driveways and patios. The WORX 20V Max Lithium 2.0 GT Trimmer/Edger/Mini-mower (WG160, $119.99) includes one 20V Max Lithium battery pack, an Energy Star rated charger and three spools of line. It is available at http://www.worx.com.
Like and follow WORX at Facebook: https://www.facebook.com/worxus and Twitter: https://twitter.com/WORXTools.