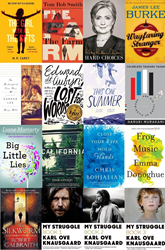 New York, NY (PRWEB) June 11, 2014
Nothing defines a summer more than the experience of being engrossed in a really good book. Its ability to sweep the reader away to another time, to be part of another family, or even to inhabit a world of crime and intrigue – all from the comfort of one's own deck chair – is a seduction few readers can refuse. Indeed, whether it's a critically acclaimed novel, an 800 page romp, or a chilling page-turner, there is nothing quite like getting lost in a book on a summer's day.
TheReadingRoom's Best Books of Summer is a great place for consumers to discover their next great read. The independent online bookstore has managed to confine its selection to a baker's dozen of books that is sure to have something for everyone. Narrowing the list down to twelve was, in and of itself, a Herculean task because there are so many amazing reads to choose from this summer!
As an indie bookseller and social discovery platform, TheReadingRoom wants to ensure that its picks help members find books at the best possible prices. With this in mind, they're pleased to announce that all of their summer picks are all 40% off and free shipping, and chosen not by an algorithm but by people who read and love books.
Highlights from the list of 12 include:
The Girl With All the Gifts by MR Carey – an emotionally charged, ground-breaking thriller set in a world overrun by zombies. Readers see the world through Melanie's eyes, a young girl living in an underground military base with other children her age. But there is something very different about these kids.
Hard Choices by Hillary Clinton – the long-awaited memoir by the former U.S. Secretary of State explores the challenges she faced and how those experiences have shaped her view of the future.
The Farm by Tom Rob Smith – the new bestseller by the author of Child 44 sees a son caught between his warring parents, and the unwilling judge and jury of his mother as well as a criminal conspiracy that implicates father.
Colorless Tsukuru Tazaki and His Years of Pilgrimage by Haruki Murakami – this book has sold more than a million copies the first week it went on sale in Japan. This is Murakami's first book since the much-lauded IQ84.
Wayfaring Stanger by James Lee Burke – 'America's best novelist' returns with a sprawling historical novel set in the decade before, and the years after, World War II. A confrontation with Bonnie and Clyde in his youth has a deep and long-lasting effect on Weldon Avery Holland as he enters the oil business with his wartime sergeant.
The Silkworm by Robert Galbraith – published under her pseudonym, the first Comoran Strike novel was lavished with praise by its critics, and there are high expectations for the second.
My Struggle by Norway's Karl Ove Knausgaard. TheReadingRoom felt that they had to include this one as their 13th book this year, and it's the one that they see as the outlier. Hailed as the next Proust, this six volume, 3,600 page autobiographical novel is a tour de force that is intense, honest and totally addictive. It has sold more than 450,000 copies in northern Europe. Volumes 1-3 are available now in English.
TheReadingRoom's community of passionate readers will, no doubt, have their own suggestions and the site encourages them to share their opinions online, and to also review their summer 2014 reads.
For the full list of our Best Books of Summer 2014, please visit our blog.
About TheReadingRoom
TheReadingRoom is one of the world's fastest growing social discovery platforms for books. It's a distinctly independent experience, aggregating and curating content around the world from members and trusted sources such as The New York Times and The Guardian. With millions of members and books on the platform, people can easily discover, purchase and discuss their next great read, connect with like-minded readers, enjoy online book clubs and receive latest news and deals. A destination where everything related to books is at your fingertips. It's your place for books.
TheReadingRoom. Your Place for Books.