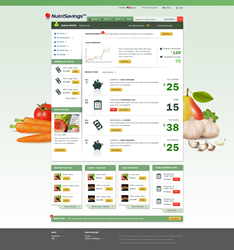 'What better way to encourage people to eat well than to put money in their pockets for choosing healthy foods,' said Eric H. Schultz, President and CEO of Harvard Pilgrim.
Newton, MA (PRWEB) June 20, 2014
Harvard Pilgrim subscribers who enroll in NutriSavings will earn financial rewards based on their healthy grocery purchases, and will access digital tools to improve their nutritional IQ and enhance their grocery shopping experience. Harvard Pilgrim rolled out NutriSavings under the brand EatRight RewardsSM in a pilot to their employees. The pilot measured the current shopping habits of employees along with the effect incentives had on purchase behavior. Harvard Pilgrim was recently approved by insurance regulators in Maine, Massachusetts, and New Hampshire, to roll out the program to members.
"The costs of obesity and other chronic diseases associated with poor nutrition are staggering to both employees and employers," said Gerard Bridi, NutriSavings' CEO. "NutriSavings believes in the power of better nutrition to improve health, boost productivity and reduce employee absenteeism. We are pleased to see high employee engagement levels at Harvard Pilgrim and attribute this to the fact that grocery shopping is universal and a necessity. Nutrition touches people each and every day – at work and at the dinner table."
More than 70% of healthcare expenses stem from obesity-related chronic illnesses. In the United States, where medical coverage is provided by employers, this represents an estimated cost of $850 per employee per month. NutriSavings addresses this epidemic by educating and incentivizing employees to eat healthier.
Several measures were used to determine pilot program success including employee engagement and shopping basket score change over time. Employee engagement is measured by tracking the number of employees who enroll their supermarket loyalty cards and use it while grocery shopping. More than one-third of Harvard Pilgrim employees participated in the pilot program, recording more than 4,000 shopping trips. More than 65% of their shopping trips registered average shopping basket nutritional scores of 60 or higher on a scale of 1 to 100 with 100 as the best. The average shopping basket score nationally has been calculated at between 30 and 45.
"We are thrilled to see that Harvard Pilgrim employees are making healthier choices," said Niraj Jetly, NutriSavings SVP, COO/CIO. "The universality of the grocery shopping experience is evident from the fact that we are seeing higher levels of engagement for employees in the age groups of 31 and above."
NutriSavings created the first online ecosystem where produce growers, employers, health plans, wellness organizations, and food and beverage companies join forces to get employees healthy. Harvard Pilgrim's EatRight Rewards RewardsSM members and their families have access to exclusive e-discounts on healthy foods, offered by major food and beverage companies. On their desktop, tablet or smartphone, participants also have online access to nutrition panels, ingredient lists, and nutritional scores on more than 100,000 products, along with healthy recipes and practical tips from nutritionists and dietitians, which they can share with others.
"What better way to encourage people to eat well than to put money in their pockets for choosing healthy foods," said Eric H. Schultz, President and CEO of Harvard Pilgrim. "We want our employees and members to lead happy, healthy lives and good nutrition plays an important role in making that happen. Eating healthy can lead to weight loss and reductions in cholesterol, blood pressure and sugar levels. These factors help to lower overall health insurance costs."
A study of US businesses conducted in 2013 by the National Business Group on Health (NGBH) revealed an increase in spending on programs to promote balanced nutrition and regular physical exercise. This year, approximately 95% of American companies plan to set up incentive programs, and expect to spend $594 per employee per year on average, or more than twice as much as in 2009. NutriSavings partners with large employers and health plans to deliver incentive-based nutrition programs that educate employees on better nutrition and reward them for buying healthy food products.
Sources: US Centers for Disease Control and Prevention, Mercer, Fidelity & National Business Group on Health
About NutriSavings
NutriSavings is an online ecosystem where employers, health plans, food and beverage companies, and produce growers, join forces to get employees healthy. We are on a mission to improve the health of the U.S. workforce and reduce the enormous costs associated with obesity and other chronic diseases through better nutrition. NutriSavings is the first measurable nutrition benefit solution that is designed to change shopping behavior and incentivize healthy food purchases. Our solution is integrated with the nation's largest supermarket chains, enabling participants to see their grocery basket nutritional score in near real-time. NutriSavings is a joint-venture between Edenred, the world leader in employee benefits, and SavingStar, the only national fully digital grocery savings service in the U.S.
About Edenred
Edenred, which invented the Ticket Restaurant® meal voucher and is the world leader in prepaid corporate services, designs and manages solutions that improve the efficiency of organizations and purchasing power to individuals.
By ensuring that allocated funds are used specifically as intended, these solutions enable companies to more effectively manage their:

Employee benefits (Ticket Restaurant®, Ticket Alimentación, Ticket CESU, Childcare Vouchers, etc.)
Expense management process (Ticket Car, Ticket Clean Way, Repom, etc.)
Incentive and rewards programs (Ticket Compliments, Ticket Kadéos, etc.)
The Group also supports public institutions in managing their social programs.
Edenred operates in 41 countries, with more than 6,000 employees, nearly 640,000 companies and public sector clients, 1.4 million affiliated merchants and 40 million beneficiaries. In 2013, total issue volume amounted to $17.5 billion, of which almost 60% was generated in emerging markets.
Ticket Restaurant® and all other tradenames of Edenred products and services are registered trademarks of Edenred SA.
About Harvard Pilgrim Health Care
Harvard Pilgrim Health Care is a not-for-profit health plan serving more than one million members in Massachusetts, New Hampshire and Maine. It provides innovative approaches to health improvement and disease management, unique online tools that speed and simplify key transactions for employers and providers and personalized health support. Please visit http://www.harvardpilgrim.org. Harvard Pilgrim is the #1 private health plan in America according to an annual ranking of the nation's best health plans by the National Committee for Quality Assurance (NCQA).*
*NCQA's Private Health Insurance Plan Rankings, 2013-14, HMO/POS. S.