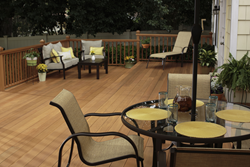 Upper Saddle River, NJ (PRWEB) June 09, 2014
From June 1-30, enter The Thompson's® WaterSeal® Summer Deck-orating Sweepstakes for a chance to win $1,000 and a case of new Waterproofing Stain to deck-orate your deck. (Ten runners up will also get a case in the new stain in their choice of color, value up to $112.) To enter, pin your favorite images from the Thompson's WaterSeal Pinterest board "Summer Deck-orating" to an existing Pinterest board. (Begin at http://www.facebook.com/thompsonswaterseal, and click on the promotions tab to access the entry form and Pinterest page.) Winners will be selected at random in early July.
The "Summer Deck-orating" board follows a deck makeover from dirty and gray through cleaning to "decked out" and ready for the warm weather season, along with additional inspirational deck shots.
Get Decked Out with Color
It all starts with deck stain when revamping your outdoor space. "Thinking about your deck in terms of colors opens up a world of creative, beautiful possibilities," says HGTV/DIY Network star Jeff Wilson. "It's a simple, affordable way to make a stylish space you can enjoy every day."
When deciding on the right color for the deck, there are a few practical tips. First, you should contrast light house colors with dark stains and vice versa.
"A dark, rich brown against a white house looks fresh and elegant," says Wilson. "In contrast, a light, sandy brown paired with a dark house gives the space a clean, sophisticated look. If your house is red-based, such as brick, I would suggest going with a cedar-colored stain."
The new Thompson's WaterSeal Waterproofing Stain line reflects the five most popular shades of exterior stains. The line includes Maple Brown (light tan), Acorn Brown (dark chocolate), Harvest Gold, Woodland Cedar and Sequoia Red. Each of the colors also comes in three versions, depending on how much color is desired.

Transparent stain shows the most wood grain with minimum color
Semi-transparent stain shows medium wood grain with more color
Solid stain shows the least wood grain with the most color
"Deck-cessories"
Like any room of the home, furniture and accessories are an easy way to update for today's trends. For example, purple is the official "color of the year" for 2014, and incorporating the color on a deck with plants and furniture can really liven up the space. Purple and green are a beautiful, natural pairing. Couple purple flowers with green pots or add dark purple pillows to green Adirondack chairs.
How-to tips, helpful videos and inspiration for any time of year can be found at http://www.thompsonswaterseal.com, http://www. http://www.facebook.com/thompsonswaterseal, http://www.youtube.com/user/thompsonswaterseal and http://www.pinterest.com/thompsonswseal.