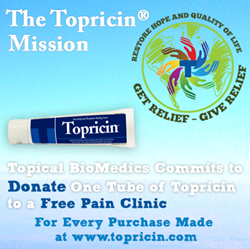 For every Topricin product purchased at www.topricin.com, Topical BioMedics will donate a tube of Topricin to a free pain clinic on the customer's behalf.
Rhinebeck, NY (PRWEB) June 19, 2014
For over 20 years, the Topricin project has humbly and positively assisted hundreds of thousands of people suffering with pain and those addicted to painkillers to achieve fully restored and robust healthy living.
Unfortunately, millions of people continue to suffer in pain, with many experiencing the negative effects of narcotic painkillers—an epidemic that turns the lives of families upside down.
This alarming trend has affected so many people that it is now considered the 21st century epidemic drug problem of the time.
Even worse, addiction to pain pills—especially opioids—has led to another serious problem, because when Rx meds become too expensive, many are turning to heroin as a cheaper alternative. The street drug heroin is now readily available in even the most upstanding neighborhoods. This insidious trend is ruining lives, destroying families, eroding communities, and undermining the very fabric of American society.
Because of Topricin's experience in addressing these challenges, Topricin has launched their "Get Relief, Give Relief" initiative and invites the community to join...asking people to help them with their mission to help those who continue to suffer with pain and addiction.
For everyone who loves Topricin and how it has benefited them and their family, and who continue to be valued customers, Topricin offers the following initiative: For every purchase of Topricin, Topricin Foot Therapy, or Topricin for Children ordered directly from the company, Topricin will donate a tube of Topricin to a credible pain clinic on the customers behalf…free.
As a Certified B Corp, Topical BioMedics is a company dedicated to making the world a better, safer, healthier, more sustainable place. When founded in 1994, Topricin committed its research, resources, and business to benefiting every stakeholder and helping every person – offering safer, more effective options for treating pain.
Designated as "The 21st Century standard of care for pain management" by Woodson Merrell, MD*, Topricin is a safe, effective healing technology with natural biomedicines that enhance the body's innate ability to heal itself...without parabens, or petroleum, best of all—without side effects. Moreover, Topricin has been shown to reduce the need and/or dependency on chemical pain medications, including opioids. It's the perfect, natural solution to the most pressing problem in America.
Asks Topricin's President and Formulator Lou Paradise:
"Please join our army of pain relief warriors determined to help those in need by ending suffering and painkiller addiction and restoring hope and the joy of living life to the fullest....
Our Get Relief, Give Relief project is destined, with your help, to change lives. Every man, woman, and child deserves to live a joyful and fulfilling life, doing the things they love with the people they love most."
So Get Relief into your hands and help Topricin Give Relief to others in need. For this Topical BioMedics/Topricin initiative, order from http://www.topricin.com or call 1-800-LES-PAIN (537-7246).
Topricin is on a mission to heal every person in the world....one tube at a time.
ABOUT TOPICAL BIOMEDICS:
20 years in business and a Certified B Corporation, Topical BioMedics is the research and development leader in topical patented natural biomedicines for pain relief. The company's flagship product, Topricin® Pain Relief and Healing Cream, was introduced in 1994 and is now a leading natural therapeutic brand. A combination biomedicine formula, Topricin has been awarded a patent for the treatment of pain associated with fibromyalgia and neuropathy, and was listed among the Top 100 Green Products of 2012 by Healthy Holistic Living.
The Topricin family of natural healing products also includes Topricin Foot Therapy Cream, specially formulated to treat painful foot and ankle issues and conditions, and Topricin for Children, which received the Parent Tested Parent Approved Seal of Approval (with 5% of sales donated to pediatric cancer foundations). Made in the U.S.A., all Topricin products are federally-regulated over-the-counter medicines with no known side effects, no parabens, petroleum, or other harsh chemicals, no grease, and no odor.
Topricin is available in independent pharmacies, natural food and co-op stores nationwide, including Whole Foods, Sprouts, Pharmaca, The Vitamin Shoppe, Fred Meyer, Wegmans, CVS (Foot Care Section), Walgreens (Diabetic Section), and other fine retailers, as well as directly from the company.
For more information, visit http://www.topricin.com.
###