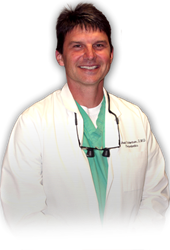 Tupelo, MS (PRWEB) June 06, 2014
Dr. J. Michael Robertson, a leading periodontist in Tupelo, MS, offers his patients new hope for tooth replacement with a variety of dental implant options. Dr. Robertson also offers an alternative laser gum disease treatment for patients in need of gum surgery. The Laser Assisted New Attachment Procedure (LANAP®) effectively treats gum disease and has the potential to save natural teeth that otherwise may be lost.
LANAP® is a revolutionary gum disease treatment. Minimally invasive, it is performed in much less time than other surgical gum treatments. Using a laser that targets bacteria and diseased tissue, Dr. Robertson can often complete treatment in one visit and most patients are back to work immediately. With the laser surgery patients usually experience less pain, less bleeding and less gum recession than with traditional gum surgery.
Implants are generally recognized as the most desirable replacement for teeth and are widely preferred over traditional bridges and dentures. Dr. Robertson surgically places implants into the jaw bone for a secure tooth replacement as opposed to removable appliances that can slip and click. Fixed bridges can also create stress on the natural teeth they depend upon for structural support. Implants also stimulate the jaw bone much like the natural tooth would, minimizing bone loss.
Dr. Robertson is committed to providing the best care for his Tupelo, MS patients and uses state-of-the-art technology such as the less invasive, FDA-cleared LANAP® and innovative dental implant options to replace missing teeth. Those who are interested in finding out more about gum disease treatment and dental implants should visit Dr. Robertson's website or call the office to set up a consultation appointment.
About the Doctor
Dr. J. Michael Robertson is a periodontist offering personalized dental care for patients in Tupelo, MS. Dr. Robertson received his B.A. from the University of Mississippi as a chancellor and Dean's List scholar, and his D.M.D. from the University of Mississippi School of Dentistry. He earned his certificate in periodontics from the University of Alabama. Dr. Robertson is part of one percent of dental professionals providing the LANAP® FDA cleared laser procedure for gum disease and periodontal treatment. To learn more about Dr. Robertson and his dental services visit his website at http://www.northmsperio.com and call (662) 269-1317.