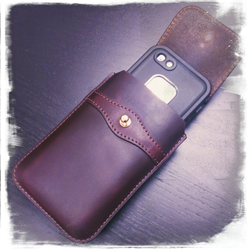 Markham, Ontario (PRWEB) June 13, 2014
Blacksmith-Labs®​, curator of fashion-aware belt clip holsters Bruno & Barrett,​ announces today the immediate availability of oversized versions of Bruno and Barrett belt clip holsters. The Bruno Mezzano, Bruno Grande, and Barrett Grande can be purchased from the company's website, http://www.blacksmith-labs.com, and are available in full-grain cowhide leather or the premium Horween Chromexcel or Essex leather options.
The Bruno Mezzano, a medium-sized larger version of the Bruno holster, was designed to hold a typical iPhone 5/5s case or cover. Cases such as the Tech21 impact mesh/shell, ​Speck Candyshell and Fabshell, Incipio NGP covers, and typical soft TPU covers are examples of products compatible with the Bruno Mezzano.
As for the Bruno Grande, it was designed to hold larger rugged cases, such as the Otterbox Commuter, Lifeproof FRE waterproof case, and Mophie Juice Pack Air battery case. Users of these large rugged cases typically struggle to find a compatible belt clip holster. With the Blacksmith-Labs Bruno Grande belt clip holster, one could say their search is over, with both contemporary design and functionality packed into one superior product.
With the Barrett collection, the Barrett Grande is adequately sized to hold up to an Otterbox Commuter rugged case, and anything below its dimensions. Its unmistakenly elegant appearance caters to those who are in search of fine-line details for the everyday suit-and-tie occasion.
Every Mezzano and Grande holster come equipped with the Blacksmith-Labs patent-pending metal alloy belt clip, virtually unbreakable with aesthetics that stand out from any other belt clip holsters in the world. If a picture does not do its justice, it's because it can't. You have to hold one to feel the weight, the solidness in its construction, and the brilliance in its finish.
Pricing and availability:
The Bruno Mezzano, Bruno Grande, and Barrett Grande can be purchased at Blacksmith-Labs's official website, starting at $79.95.