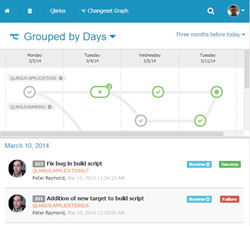 San Mateo, Calif. (PRWEB) June 10, 2014
Serena Software, the largest independent provider of Orchestrated Application Development and Release Management solutions, today announced the availability of Serena Dimensions CM 14, the most innovative and powerful version of the company's proven process-based software change and configuration management (SCCM) product.
Software development continues to become more complex in the enterprise, with increasing time-to-market pressures, cross-platform development, geographically-dispersed teams and mobile and cloud initiatives, all requiring frequent code branching and merging with often painful and difficult reconciliation. Today's open source version control solutions lack the deep change visualization, fine-grained security and access control, comprehensive governance and immutable baselines required to support global collaborative parallel development at enterprise scale.
New Serena Dimensions CM 14 capabilities simplify the complexity of parallel development and deliver enterprise-class security and scalability, making the product a perfect fit for enterprises that need to develop and deliver product innovation at a rapid pace. Dimensions CM 14 makes possible global collaborative parallel development, in which development teams streamline and automate their development practices, visualize and minimize conflicts, reduce compliance risk and assure a high degree of software release readiness.
"Speed is the new paradigm, but delivering at speed and with quality has been a challenge," said Ken Vane, IT Change and Configuration Manager at Navy Federal Credit Union. "The visibility and insight that Dimensions CM 14 provides allows us to see if we are converging to quality or diverging from quality in real time."
The new capabilities in Serena Dimensions CM 14 allow software development organizations to:

Improve software quality through improved visibility and insight into the suitability of code for release,
Increase development efficiency by minimizing rework and visualizing and reducing code conflicts, and
Achieve no-touch compliance through built-in accountability, traceability and security.
"Dimensions CM 14 is eliminating the complexity of parallel development, while increasing development team collaboration and providing unique visibility into the health and quality of development deliverables, smoothing the transition to Continuous Delivery," said Ashley Owen, Director of Product Marketing at Serena Software. "More than 150 enterprise-class Dimensions CM users have validated these new capabilities through our extensive preview, beta and special interest programs, and their excitement and enthusiasm for this release is overwhelming."
Top 5 New Serena Dimensions CM 14 Capabilities:
To enable global collaborative parallel development, Serena Dimensions CM 14 delivers these important new capabilities:
1. Change and Branch Visualization
The new Dimensions CM 14 user interface provides a visual and interactive timeline of development deliveries and uniquely associates continuous integration and peer review status, providing real-time visibility into health and quality.
The new ability to visualize changes and code branches across multiple projects, platforms and locations enables teams to streamline the delivery of code changes in a process that is consistent and easily managed, while visual change history provides continuous insight into change health and release readiness.
"The new Dimensions CM 14 Changeset functionality enables us to verify and audit data changes faster, ensuring we meet compliance requirements easier," said Ricardo Oliviera, ALM specialist, Caixa Geral de Depositos. "With this new version, build, release and deployment management are fully configurable to guarantee and support our Continuous Integration processes. Dimensions CM 14 is a new landmark in the SCM tools universe!"
2. Integrated Peer Review
Dimensions CM 14 includes new collaborative peer review and approval capabilities made visible within the product and directly in the developer's IDE, fostering collaboration, improving accountability and making sharing of best practices much easier among distributed development teams. With the combination of peer review, development status and Continuous Integration feedback, enterprises now have in one place the information they need to accelerate application development and delivery.
"We are particularly excited about the introduction of changesets and stream versioning," said Richard Prescott, Software Development Technical lead, SPTS Technologies. "A significant amount of our software development is customer driven and requires several active release branches at any point in time. The task of managing the merge of new features or patches from one branch to another will be greatly simplified, and the adoption of peer review will improve team collaboration and quality."
3. The Immutable Baseline
This new release provides a critical system of record for software release supporting forward fit or rollback, ensuring repeatability and integrity of releases from Development to QA, Pre-Production and ultimately Production.
4. Personal Library Cache & Delta Compression
The personal library cache significantly speeds access to files for distributed teams by removing network transfers while maintaining a secure local cache, and delta transfers reduce network traffic by only transferring the sections of text or binary files that have been modified between revisions.
5. Cross-Platform Mobile and Cloud Initiatives
Dimensions CM now supports native integration with the Appcelerator mobile development platform and integration and interoperability with additional IDEs such as Apple's Xcode. The addition of Safari support extends Dimensions CM usage to Mac OS X clients.
Availability, Live Demonstration and Additional Information:
Serena Dimensions CM 14 is generally available today and can be purchased directly from Serena Software or the company's network of partners worldwide. Current customers can download the latest versions from the company's Support website.
Join a live webcast on June 25th to learn more about new features, see a live demonstration and ask questions directly of the product team. Register at http://info.serena.com/dimcm14launchcast.html.
For additional information now, including product collateral, videos and screenshots, visit http://ser.so/cm14launchkit.
View videos of the new capabilities in Serena Dimensions CM 14:

Tweet this news: @SerenaSoftware redefines software change and config management with new Dimensions CM 14. http://www.serena.com/cm
Visit Serena's Press Center: http://www.serena.com/index.php/en/news-events/press-room
Follow Serena on Twitter: http://www.twitter.com/serenasoftware
Get Serena's monthly newsletter: http://ser.so/snewsletter
About Serena Software:
Serena Software provides orchestrated application development and release management solutions to the Global 2000. Our 2,500 active enterprise customers, including a majority of the Fortune 100, have made Serena the largest independent ALM vendor and the only one that orchestrates DevOps, the processes that bring together application development and operations.
Headquartered in Silicon Valley, Serena serves enterprise customers across the globe. More information is available on the company's website at http://www.serena.com.