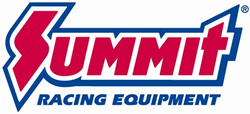 Tallmadge, Ohio (PRWEB) June 09, 2014
A DOT-approved nitrous bottle that weighs a mere 8 pounds, 12 ounces, a full five pounds less than a regular bottle. The weight savings allows racers to carry an extra bottle of nitrous or add weight where it's needed.
The bottle still has all the race-ready features NOS puts into its standard bottles. It has an NOS/CGA-approved high flow valve and a built in siphon tube. An integrated pressure relief system vents the bottle safely and automatically in case of over-filling. An exposed carbon fiber weave gives the bottle a touch of modern style.
A NOS Carbon Fiber Nitrous Bottle was featured on Part Two of the PowerNation's Engine Power "Barely Legal Mustang" Episode. Watch the full episode here.
See the NOS Carbon Fiber Nitrous Bottle at Summit Racing Equipment.
Summit Racing Equipment
http://www.SummitRacing.com
1-800-230-3030