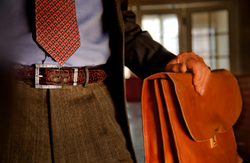 Santa Fe, NM (PRWEB) June 06, 2014
John Rippel designs and crafts a variety of hard to find items for men that make excellent Father's Day gifts, including his stunning sterling silver belt buckles, sterling boxes and bracelets. Rippel's contemporary buckles are versatile enough to wear day and night: city or country, beach or New York City boardroom. They are collectible and can be mixed and matched with a choice of leather belt straps for personalization. John Rippel U.S.A. also carries Porsche Design watches and pens, a luxury brand that focuses on functional, timeless and purist design, loved by Porsche enthusiasts the world over. All of these items are available at the John Rippel U.S.A. website.
Rippel's belt buckles are made of the highest quality and are genuinely reflective of the best of Santa Fe's widely touted creative class. Some of the designs are inspired by late 19th-century Navajo jewelry; he uses materials in an inventive and elegant way. His application of sterling silver, turquoise and gemstones make his men's and women's belt buckles, rings, cuff links, bracelets and earrings sought after for gift giving and for personal acquisition. His sterling silver buckles last for generations and are the perfect subtle, yet striking, men's accessory, and, significantly less costly than a fine wristwatch. They are available as single buckles or multiple piece sets, which include a tip and one or two keepers.
John Rippel celebrates 45 years in business in Santa Fe this year. He remains a presence in his shop where he is often available to talk to customers about his work and help them with a custom belt fitting.
About John Rippel U.S.A.: John Rippel U.S.A., located at 111 Old Santa Fe Trail in the historic La Fonda Hotel, is a purveyer of fine jewelry and accessories, including sterling silver belt buckles, jewelry and gifts designed by John Rippel, exotic leather bags and purses, leather jewelry, Santa Fe Flip Rings by Gloria Sawin, Storywheels Porsche Design Watches and Pens. Other artists at John Rippel U.S.A include, Randy Allen, Sally Bass, Andi Callahan, Tom DeWitt, Doris King, Cherie Magnello, Herbert Ration, Jennifer Sihvonen and Ray Van Cleve. John Rippel has been selling his custom belts and following his passion in Santa Fe, now celebrating 45 years in business in 2014.
For media inquiries, please contact:
Jennifer Padilla
JLH Media
505 577 1347
jpadilla (at) jlhmedia (dot) com