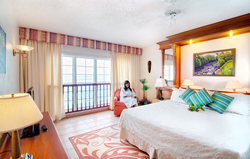 Roseau, Dominica (PRWEB) June 08, 2014
Seeking to enhance Dominica's growing reputation as the number one dive spot in the Caribbean, the Fort Young Hotel has launched a special summer all inclusive package aimed at travellers wanting to focus their holiday around diving. The new All Inclusive Summer Dive Package gives divers the chance to enjoy a huge amount of time underwater, fully aware that everything has been taken care of back on land, leaving them the maximum amount of time to enjoy themselves on and off shore.
The All-inclusive Summer Dive package starts at US$1,541 per person based on double occupancy. It is valid on new reservations made between now and October 10, 2014 for travel between June 1st and October 15th 2014. Also available and customizable for groups, the package includes accommodations for seven nights, all meals and in-house beverages, and five days of 2 tank dive trips (ten dives) with visits to some of the Nature Island's best loved dive sites. These include Champagne, where volcanic fumaroles beneath the sea bed fill the water around you with thousands of bubbles; the five dramatic coral-covered spires known as Danglebens Pinnacles, and the 1.5km long wall La Bym, where divers might just encounter a turtle or manta ray idling by. There will be plenty of time to discover why, this March, Scuba Radio said Dominica, "consistently delivers the best in Caribbean diving, if not the world".
What really makes Fort Young the perfect hotel for a dive vacation in Dominica is how its facilities cater to divers. There's an on-site dive shop as well as the hotel's own jetty - itself an iconic site on the island, especially at sunset - where dive boats collect and drop divers off. The jetty is also the embarkation point for world class whale watching, and snorkelling trips from the hotel, as well as the romantic setting for many weddings.
Many of the island's best dive sites are just 20 minutes or so from the hotel by boat. As a result of its unrivalled facilities and location, The Fort Young Hotel was chosen earlier this year to be the Dominica partner for Guy Harvey Outposts, a Florida-based specialist tour operator, which takes American guests on some of the finest marine holidays in Mexico, Galapagos, the Bahamas, Grand Cayman... and now Dominica.
Once back on land, divers can just sit back and relax. All meals are included in the package, along with any in house alcoholic beverage. And because the diving is so accessible from the hotel, there's still plenty of time available to explore the rainforests for which Dominica is equally famous, and which are just as easy to reach from Fort Young. Or, guests can simply unwind in one of the hotel's rooftop Jacuzzis, swim a few laps of the infinity pool, or enjoy dinner or drinks in its oceanfront restaurant and bars.
About the Fort Young Hotel:
Built into the original fort (first constructed in 1699), The Fort Young is Dominica's leading hotel and a landmark in the capital city Roseau. The hotel has 32 original Fort rooms, 38 Oceanfront and Deluxe Oceanfront rooms, along with three suites, offering a combination of old world charm and spacious modern luxury. It features an on-site Dive Shop, Excursion Desk, Duty Free shopping as well as Massage & Wellness Center and Conference Rooms and free Wi-Fi throughout. The Fort Young Hotel serves as the perfect base for visitors to explore the island, whether for business, diving, leisure or shopping. For more information, visit http://www.fortyounghotel.com.
About Dominica
In a region saturated by tourism, Dominica remains one of the hidden gems of the Caribbean. Known as the "Nature Island" due to its abundance of natural splendors: 365 rivers, the second largest boiling lake in the world, volcanoes, mountains, waterfalls, hot springs, black and white sand beaches; and below the water, volcanic vents, plunging sea walls, colorful reefs, soft corals, sea turtles and sperm whales. Much of the island is protected under national parks, one of which has been given UNESCO World Heritage status. Dominica is a paradise for divers, hikers, birdwatchers and nature-lovers.