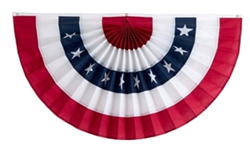 Deer Park, NY (PRWEB) June 10, 2014
INDEPENDENCE BUNTING & FLAG CORP. (hereafter referred to as INDEPENDENCE BUNTING) today announced a special discounted price on their complete line of Independence Day red, white, and blue patriotic decorations in advance of the July 4 holiday. These decorations include patriotic bunting, pleated fans, bows, pull down, and more.
The 10% price reduction covers all products in the 4th of July Bunting, 4th of July Pleated Fans, 4th of July Pull Downs, and 4th of July Bows categories of the INDEPENDENCE BUNTING website. In order to enjoy the cost savings, users should use the coupon code "july4" upon checkout at http://www.independence-bunting.com.
Mr. Keith Feuer, the owner and founder of INDEPENDENCE BUNTING, commented, "We already offer a lower price than most of our competitors, but I wanted to do everything in my power to help my customers save money this year. What's more, you're buying high quality decorations made right here in the United States."
With every product made in the USA, you might expect INDEPENDENCE BUNTING to raise cost as a result of the superior craftsmanship and higher cost of living in the United States. However, Mr. Feuer explained that he is committed to remaining competitive when it comes to price.
INDEPENDENCE BUNTING's products are designed for both outdoor and indoor use and provide many years of extended use. Products made specifically for the outdoors feature UV protection that resists and reduces fading and prevents color bleed. Even the indoor patriotic decorations are heavier and stronger than the industry standard. Pleated fans and pull downs come with grommets that make them easy to hang or mount on almost any surface. Likewise, the bows are equipped with extra long braided ties.
"If you take time to do something, you should do it right," said Mr. Feuer as he showcased the thickness of the material that makes up one of his star-spangled pleated fans. "Everything is hemmed with double-stitched stripes – not printed on a solid piece of material. And we actually pleat our pleated fans to make them easy to reuse and keep them looking like new."
Upon announcement of the temporary 10% cost savings, Mr. Feuer also reiterated his commitment to outstanding customer service. "I treat everyone who calls me as my most important customer, and I guarantee my care and attention to your needs."
INDEPENDENCE BUNTING was founded in 2005 and produces a complete line of holiday-themed, patriotic, corporate, and custom bunting. Starting with the finest materials and workmanship, INDEPENDENCE BUNTING is committed to quality, American-made products.
To learn more or to purchase your decorations for Independence Day today, please visit http://www.independence-bunting.com or call (800) 995 9129. To assure that you receive your order in time for July 4th, 2014, remember that standard shipping can take up to 8 business days, while express shipping is offered. To receive 10% off all 4th of July products, please use the coupon code "july4."