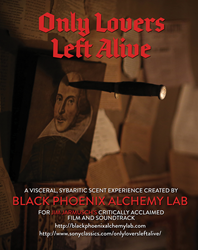 'I guarantee, Black Phoenix Alchemy Lab is like no other perfumier you've ever seen.' - Beauty News LA
Los Angeles, CA (PRWEB) June 11, 2014
Premier dark fragrance house Black Phoenix Alchemy Lab presents a line of twenty-two individual, original fragrances inspired by the new Jim Jarmusch vampire film Only Lovers Left Alive (starring Tilda Swinton and Tom Hiddleston).
These collectible, hand-blended perfume oils expand upon the vivid sensory world of the film's characters, story points, and soundtrack (feat. Wanda Jackson, Jozef Can Wissem, and Yasmine Hamdan), and are now available in 5ml apothecary bottles exclusively via the Black Phoenix Alchemy Lab website.
**Full Scent Description List Below**
About the Lab:
Black Phoenix Alchemy Lab (BPAL) specializes in formulating body and household blends with a dark, romantic tone. Their general catalog contains literally hundreds of scents running the aesthetic gamut of pagan and mythological blends, Renaissance, Medieval and Victorian formulas, and horror/Gothic-themed scents. BPAL's licensed fragrance collections include collaborations with The Henson Company, Neil Gaiman, Clive Barker, and many others. For more info, please visit http://blackphoenixalchemylab.com.
Press Contact:
Chrissy Lynn Salazar
chrissylynn(at)blackphoenixalchemylab(dot)com
12120 Sherman Way
North Hollywood, CA 91605
About the Film:
Only Lovers Left Alive is the critically acclaimed vampire drama directed by Jim Jarmusch (Dead Man, Broken Flowers), starring Tom Hiddleston, Tilda Swinton, Mia Wasikowska, John Hurt and Jeffrey Wright.
Set against the romantic desolation of Detroit and Tangier, an underground musician, deeply depressed by the direction of human activities, reunites with his resilient and enigmatic lover. Their love story has already endured several centuries at least, but their debauched idyll is soon disrupted by her wild and uncontrollable younger sister. Can these wise but fragile outsiders continue to survive as the modern world collapses around them?
Full Scent/description List
++ Character Scents
Eve
Eve is eternal: in three-thousand years, she has likely traveled the length and breadth of the world, immersed in innumerable cultures throughout the ages, observing the ebb and flow of humanity and the imperishability of nature itself. Despite her age, she is the character that seems most rooted, always experiencing each moment with open eyes, always fully present. Her scent is one that travels through the eons: the Irish moss, yarrow, and hawthorn of the Iron Age Britons, ancient Rome's omphacium and honey, myrrh and calamus from Egypt, the frankincense and damask roses of the Florentine Renaissance, white sandalwood from the Far East, Moroccan saffron and rose water, and a swirl of incense from the souks.
Adam
Adam, our suicidally romantic scoundrel. His scent is a palette of somber colors, melancholy memories, and lupine, savage beauty: black leather, pale sandalwood, ambergris accord, and the memory of a long-lost Victorian fougère. His internal life seems to be reflected in his lair, so his perfume also possesses the scent of the wood of his guitars, the rosin from his violin bow, the musty wool of neglected Oriental carpets, the plastic, metal, and magnetic tape of his reel-to-reel, the dust that permeates everything.
Kit
Immersed in his (eternal) life's work, holding on to his memories, suffused with a love of life and literature, Kit's scent is soft and dry as bone: Mysore sandalwood a tattered and patched 16th century waistcoat, inkstained, still scented with the marjoram and benzoin dry perfumes of his youth.
Ava
It's always a bit weird with family. A scant two-hundred years old, there doesn't seem to be anything that roots Ava to her past. Her scent is utterly contemporary, and, like her personality, it is impulsive, capricious, and dangerous. Voluptuous and brittle, lovely and toxic: sheer vanilla musk with tuberose, red mandarin, and the sweet poison of white almond.
Ian
Y'know, for a zombie, you're alright. A flicker of hero worship, tempered by naivety and an innately kind nature: shaggy leather, sweet rum absolute, and patchouli.
++ Story Point Scents
Blood Popsicle
The scent of frozen Type O negative.
Cafe Mille Et Une Nuits
Shisha and thick coffee brewed with cardamom pods, cinnamon, clove, black pepper, and nutmeg.
The Diamond's Gong
A celestial hymn, singing to Earth from fifty light years away: ten billion-trillion-trillion-carats of glittering white musk, with cognac, tagetes, white champaca, Gum Arabic, and davana.
The Edge of Doom
Love alters not with his brief hours and weeks,
But bears it out even to the edge of doom.
If this be error and upon me proved,
I never writ, nor no man ever loved.
The night flight from Tangier: drops of spilled blood color the antiseptic, bland, plastic paleness of the fuselage, with violet leaf for longing, rosemary for reminiscences, and black opoponax for apprehension.
The Hourglass
"I feel like all the sands are at the bottom of the hourglass."
"Turn it over, then."
The white roses and orange blossoms of hope penetrating despair's black fog of opoponax, black myrrh, bruised violet, clove, funereal lily, and grief-struck carrot seed.
June 23, 1868
True love renewed by night in an English garden: moonflower, Nottingham catchfly, Casablanca lily, evening primrose, night-blooming cereus, Queen of the Night, muted by the sepia tones of tonka, tobacco absolute, bourbon vanilla, and costus.
Quintessence of Dust
"What a piece of work is a man!"
"What is this quintessence of dust?"
The passing: beeswax and smoke, yellowed paper and well-worn leather books, droplets of spilled ink, faded incense, blood-tinged salty tears, and the metal of the knife that skewers that illiterate zombie philistine's portrait.
Shelley, Byron, and Keats
Uncompromising idealism, haunted romanticism, fatal ennui, and a heady amount of scandal and vice: red roses and pale carnation with a draught of laudanum, smears of opium tar, a hint of absinthe, and mercury ointment.
Spooky Action at a Distance
"When you separate an entwined particle and you move both parts away from the other, even at opposite ends of the universe, if you alter or affect one, the other will be identically altered or affected. Spooky."
Instantaneous correlated action between entangled partners: rose-infused sandalwood with violet leaf, frankincense, geranium rose, and a spark of elemi.
There's Water Here
This place will rise again. The wisdom of eternity imparting a glimmer of hope through the grace of eternal renewal: the wild glory of nature bursting through cement, metal, and urban despair, purified by the waters of Lake St. Clair.
Wooden Bullet
A .38 caliber bullet fashioned from cocobolo wood and brass.
++ Soundtrack Scents
[These scents were built to compliment the film's music itself, now available for purchase courtesy of ATP Recordings.]
Streets of Detroit
Black musk accord, Ethiopian myrrh, and motor oil.
Funnel of Love
17-year aged black patchouli, champaca flower, cardamom bud, green coriander, Haitian vetiver, red vegetal musk, black pepper, night-blooming jasmine, and leather.
Diamond Star
Ambergris accord, guiac wood, white benzoin, immortelle, and Somalian myrrh.
In Templum Dei
Oman frankincense, cistus labdanum, white sandalwood, and liquidambar.
Our Hearts Condemn Us
Keralan teakwood, Bulgarian rose otto, Himalayan cedar, and oudh.
Hal
Saffron-infused bourbon vanilla, blackened honey, Kashmir wood, Atlas cedar, ambrette seed, hay, and Egyptian jasmine absolute.
This is Your Wilderness
Honeyed patchouli with cypress, black pine, and tobacco absolute.