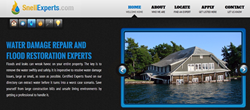 Mold Inspection and Removal experts can now be found in Snell Experts' nationwide online database at http://www.SnellExperts.com
Charlotte, NC (PRWEB) June 06, 2014
Mold inspection and removal is not an easy task and should not be taken lightly. And now thanks to the Snell Experts, consumers can access a national database of experts online at http://www.SnellExperts.com. The professionals found at Snell Experts are the best in the country, providing services such as mold inspection, mold removal and mold prevention.
Mold problems can occur just about anywhere at any time undetected. Mold can be hazardous which is why taking care of those mold problems right away is a must. No matter how old or new your home or place of business may be mold can be or occur there. Snell Experts boasts courteous and knowledgeable mold professionals, always striving for the best service and customer satisfaction.
Mold is serious, and should be taken as such. The Institute of Medicine (IOM) found there was sufficient evidence to link indoor exposure to mold with upper respiratory tract symptoms, cough, and wheeze in otherwise healthy people; with asthma symptoms in people with asthma; and with hypersensitivity pneumonitis in individuals susceptible to that immune-mediated condition. The IOM also found limited or suggestive evidence linking indoor mold exposure and respiratory illness in otherwise healthy children. In other words, mold is not to be taken lightly.
With professionals across the entire United States, any and all of your mold problems can be eliminated and prevented by visiting http://www.SnellExperts.com, or by contacting them at 1-(888)-493-0098.