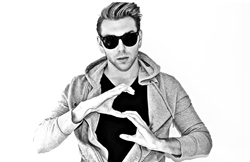 Port St. Lucie, FL (PRWEB) June 17, 2014
Michael S., a native Chicagoan and singer/songwriter is bringing a whole new meaning to the musical term diverse. He has taken on the role of bridging the gap between Pop and Dance music. His deep passion for music has been getting Michael S. a lot of attention from big names in the music industry. International DJ's such as Fedde Le Grand, Morgan Page and Armin Van Buuren are fans of his work. Michael S. has performed on stage with Nadia Ali, Axwell, and Paul Oakenfold. Additionally, Michael S. has played at well-known venues such as Milwaukee Summerfest (Milwaukee, WI), Ultra Music Festival (Miami, FL) Spring Awakening (Chicago, IL) Avalon Nightclub (Los Angeles, CA) and Pacha Nightclub (New York, NY) to name a few.
In the past year, Michael S. has signed his music to be released by Armada Music (one of the largest dance labels in the world). His recent single Audien ft. Michael S. "Leaving You" has become an international hit. Reaching over 6 Million plays on Spotify and millions of plays on youtube. He has also collaborated with powerhouse producer, Morgan Page on his latest single, "Against the World" which is now a monster radio/club anthem. To top it off, Sirius Xm BPM nominated Michael and Audien for Best Dance Track of the year.
Michael S. is also one of the only signed male vocalists in EDM to have his own international radio show. His show "Saved By The Beat" plays exclusive mixes, song releases and guest interviews which give his listeners an exclusive look into the world of EDM. Nicky Romero, Krewella, and 3lau are just a few of the artists he has featured on his show. With millions of listeners worldwide and syndication throughout 100+ radio stations including clear channel's I Heart Radio, "Saved By The Beat" is rapidly gaining popularity.
Michael S. who is represented by SS Management, LLC and booked by Nene Musik Productions, LLC. will be touring summer and fall of 2014 to support his music singles. He will be performing at clubs, casinos, fairs and festivals. Tour dates and venues shall be announced soon.
About Nene Musik Productions, Llc.:
Nene Musik Productions, Llc. (http://www.nenemusik.com) was established in 1989. Today, It is a boutique Artist Management and Consulting Agency that services Recording Artists, International DJ's and Celebrities. Dennis Rodman, Cascada, Mia Martina and Tune~Adik's Vic Latino are just of few on Nene Musik's client roster. Nene Musik's experience and commitment to excellence have earned them the reputation as one of the best Artist Management / Consulting companies in the World.
For Interviews contact: Alexandra Kuluk - Nene Musik Productions, Llc. promo(at)nenemusik(dot)com 772-807-8305 http://www.nenemusik.com