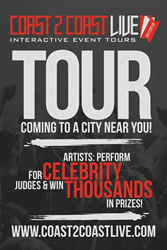 Miami, FL (PRWEB) June 07, 2014
Coast 2 Coast LIVE announces the June 2014 Tour bringing celebrity judges including DJs, Producers, A&Rs and more to every tour stop. Coast 2 Coast LIVE provides major artists and indie artists alike an opportunity to network and perform for prizes. Artists can submit to perform at any of the dates on the tour at Coast 2 Coast LIVE.
Each event on the tour will feature an artist showcase that will be judged by various celebrity judges spanning the music industry. Judges in the past have included multi-platinum and Grammy nominated artist Warren G, the #1 DJ in the South Bigga Rankin, and Grammy winning producer Rockwilder just to name a few..
June Tour Dates:
6/9/14 - ATL Edition
Harlem Nights | 201 Courtland Street Northeast Atlanta, GA 30303 | Age Limit: 21
6/11/14 - New Orleans Edition
The Howlin Wolf | 907 South Peters New Orleans, LA 70130 | Age Limit: 21
6/12/14 - Houston Edition
Warehouse Live | 813 St. Emanuel St Houston, TX 77003 | Age Limit: 21
6/14/14 - OKC Edition
Ice Event Center & Grill | 1148 NE 36th St. Oklahoma City, OK 73111 | Age Limit: 21
6/15/14 - Kansas City Edition
Riot Room | 4048 Broadway Kansas City, MO 64111 | Age Limit: 21
6/17/14 - Chicago Edition
Club E | 5415 W. Irving Park Rd. Chicago, IL 60641 | Age Limit: 21
6/21/14 - Boston Edition
The Middle East | 472-480 Massachusetts Avenue Cambridge, MA 02139 | Age Limit: 18
6/22/14 – NYC Edition
Santos Party House | 96 Lafayette St New York, NY 10013 | Age Limit: 21
6/23/14 - Philly Edition
Underground Arts | 1200 Callowhill Street Philadelphia, PA 19108 | Age Limit: 21
6/29/14 - Miami Edition
The Stage | 170 NE 38th St Miami, FL 33127 | Age Limit: 21
6/30/14 - Tampa Edition
Crowbar | 1812 17th St N Tampa, FL 33605 | Age Limit: 21
To find out more about the Coast 2 Coast LIVE June Tour visit the website. Artists can submit to perform by going to http://www.coast2coastlive.com and media, DJs and models can register for free to any events at http://www.coast2coastlive.com/events
About Coast 2 Coast LIVE:
Coast 2 Coast LIVE tours in over 10 cities every month to bring indie artists major opportunities through our interactive showcase events. Artists submit via the website and get votes to perform in their city, judges critique the artists in various categories to find a winner for every city to take their music career to the next level. For more information, visit http://www.coast2coastlive.com