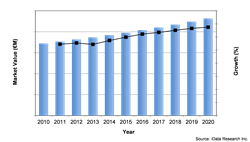 The prevalence of obesity has grown at such a rate that bariatric surgery is the fastest growing laparoscopic procedure in Europe
Vancouver, BC (PRWEB) June 09, 2014
According to a new report series by iData Research (http://www.idataresearch.com), the leading global authority in medical device market research, the European Laparoscopic Device Market is expected to grow over $3 billion by 2020. Ethicon, Karl Storz, Covidien and Olympus battle for control of this market, particularly in the Direct and Ultrasonic Energy Device segments. Technological advancements in direct and ultrasonic energy devices that have multifunctional capabilities are one of the key drivers of growth in the overall market.
Obesity affects nearly 400 million adults worldwide and has spurred an increase in bariatric surgeries, a surgical procedure that removes parts of the stomach or small intestine to induce weight loss. "The prevalence of obesity has grown at such a rate that bariatric surgery is the fastest growing laparoscopic procedure in Europe," says Dr. Kamran Zamanian, CEO of iData. In 2013, there were 109,991 bariatric procedures performed in Europe. The countries with the highest number of bariatric surgeries performed are Germany, Scandinavia, U.K and Benelux, which have become well-known centers for bariatric surgeries, attracting thousands of foreign patients.
The fastest growing segment of the European market for laparoscopic devices was represented by Direct energy devices, whereby growth has driven primarily by the Advanced Bipolar segment, which attracted end-users by decreasing operating room times and increasing surgical efficiency. Advanced Bipolar devices are gaining popularity, as the device can be used for multiple functions
during the procedure with better clinical results. Examples of such devices include, Covidien's LigaSure™, Ethicon's ENSEAL® and Olympus's PK® Technology advanced bipolar devices.
For Further Information
The global series on the "European Markets for Laparoscopic Device s" covers 16 countries including the U.S. and 15 Countries in Europe. The full reports provide a comprehensive analysis including procedure numbers, units sold, market value, forecasts, as well as a detailed competitive market shares and analysis of major players' success strategies in each market and segment.
Markets covered include: laparoscopes, gastric-bands, access-devices, hand-instruments, insufflation, suction-irrigation, direct-energy, ultrasonic, hand-assisted, female-sterilization and closure devices
About iData Research
iData Research (http://www.idataresearch.com) is an international market research and consulting group focused on providing market intelligence for medical device and pharmaceutical companies. iData covers research in: Diabetes Drugs, Diabetes Devices, Pharmaceuticals, Anesthesiology, Wound Management, Orthopedics, Cardiovascular, Ophthalmic, Endoscopy, Gynecology, Urology and more.
Contact:
Caroline Lau
iData Research
carolinel(at)idataresearch(dot)net