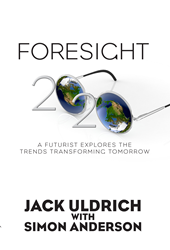 If you learn from the mistakes and build upon the small successes, your future might just be unusually successful.
Minneapolis, MN (PRWEB) June 10, 2014
The 2014 Community Transportation Association of America (CTAA) Expo is taking place in St. Paul, Minnesota this week and best selling author and global futurist Jack Uldrich will deliver his keynote "Foresight 20/20:10 Trends Transforming Tomorrow."
In accordance with the CTAA's missions of building a mobile society through mass transportation, staying fresh with their thinking, and keeping their finger on the pulse of the latest trends, they have chosen futurist Jack Uldrich to discuss with the group the latest trends that can and will affect their future livelihood.
The CTAA states, "A society that now includes a growing population of seniors needs new and expanded community transportation alternatives. Communities with staggering air quality problems and ground congestion need improved public and community transportation alternatives. Areas and communities that have been abandoned or which are in decline need public and community transportation options as part of their renewal efforts."
Jack Uldrich makes a living researching future trends and sharing them with organizations like the CTAA. Currently making the rounds across the U.S. as a keynote speaker with Verizon Wireless Connected Technology Tour and speaking to a variety of other groups in areas such as retail, agriculture, health care and utilities, Uldrich is a keen observer of the latest technological trends and sharing with audiences how to best utilize those innovative trends.
Uldrich's presentations offer a variety of thought provoking snapshots of emerging ideas, trends, and cutting edge technologies. And his tangible examples have been quoted as giving his clients "optimism and ideas." With the current issues the CTAA is facing clearly both of those things are in order.
Drawing on content from his upcoming book: "Business as Unusual: How to Future-Proof Your Business Against Tomorrow's Trends, Today," Uldrich will share insights on the Internet of things, Big Data, and the Big AHA with the CTAA audience members. For more on Uldrich's thoughts on the Big AHA, read his latest article here.
The 2014 CTAA Expo will be taking place June 8-13th in St. Paul and Uldrich's keynote will be delivered at the RiverCentre on June 11th. Uldrich will speak again on June 12th to the Minneapolis leg of the Verizon Wireless Connected Technology Tour with a special session being held for government officials as well.
Parties interested in learning more about him, his books, his daily blog or his speaking availability are encouraged to visit his website. Media wishing to know more about either the event or interviewing Jack as a futurist or trend expert can contact Amy Tomczyk at (651) 343.0660.