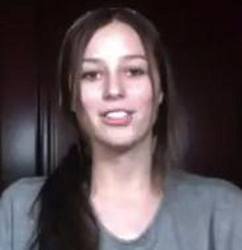 (PRWEB) June 08, 2014
Paige starts off this easy beginner acoustic guitar lesson by going over the guitar chords that are used in the song as follows; G, Em (E minor) and C. Next Paige demonstrates the chord progression for the song as; G, C, Em, C. Paige says that the strumming pattern consists of only down strokes and that there are eight beats for each chord counted as eighth notes (1 & 2 & 3 & 4 & 1 & 2 & 3 & 4 &). Zollars continues by briefly performing the song so you can hear how it sounds. Paige talks about a variation that you can do for the G chord to give the song a little more flair by playing the G for the first four beats and then for the second four beats play Gadd11 for beats one and two and play G, but with the 2nd string open, for beats 3 and 4, this will make the melody line more like the original song. Complete guitar chord charts as well as guitar TAB's are available for this easy beginner acoustic guitar lesson at SongTabs.com.
The Black Eyed Peas is an American hip-hop group formed in 1995 in Los Angeles California. Upon releasing their third studio album Elephunk the bound found commercial success. With 35 million album sales and 41 million singles, they are one of the best selling groups of all time. Over the course of their career they have released 7 studio albums and have been awarded numerous awards including 8 American Music Awards and 6 Grammy Awards.
Paige Zollars
Has been a singer and song writer for the last 6 years and performs at fairs and coffee shops in her area. She has an original song "Broken" available on ITunes and works for a company called KlabLab where she makes educational songs for the classroom.
About SongTabs.com
SongTabs.com is a great online resource for learning to easily play your favorite songs on the guitar. With several great instructors and a constant growing catalog of songs, everyone can learn to play there favorite songs.