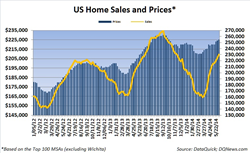 Weekly sales are just -2.79% below that of last year
Chicago, IL (PRWEB) June 07, 2014
Peoples Home Equity is happy to share news from DQnews.com that weekly home sales have increased for the 10th consecutive week. Real estate activity is expected to continue its rise based on the recent interest rate cut from the European Central bank (ECB).
As shown its "National Home Sale Snapshot" on DQnews.com, weekly home sales are rising so fast this spring that they are nearly outpacing levels from last year. Home sales were reported to have risen 2.5% this week at a value of 230,033 in the most recent 30 days. Weekly sales are just -2.79% below that of last year, and 25.75% above levels 3 years ago. Peoples Home Equity is confident that sales could outpace weekly levels from last year now that the ECB has cut its interest rate to negative 0.1%. This action is to persuade banks to park money elsewhere, such as give to borrowers, to earn interest. The effects of the ECB's new policy had an immediate effect on mortgage rates in the U.S. MortgageNewsDaily.com's "Daily Mortgage Rates" landing page shows that the 30-year fixed loan rate declined on Thursday from 4.23% to 4.19%.
Weekly median home prices have also performed well rising for the 3rd consecutive week up to 225,000. Median home prices in the last 30 days are now 6.9% higher than last year, and 28.6% higher than 3 years ago.
The entire market is thriving this spring, agents are selling more homes, buyers are taking advantage of relatively lower rates, and homeowners are enjoying higher equity. Thus, Peoples Home Equity thinks now is a perfect time to purchase a property.
If interested in securing a competitive, lower rate mortgage, consider speaking with a Peoples Home Equity loan officer today details at: 262-563-4026