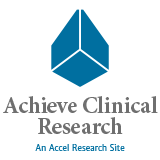 "There is no cure for RA, but there are a number of medications available to help ease symptoms, reduce inflammation, and slow the progression of the disease." - The Arthritis Foundation
Birmingham, AL (PRWEB) June 10, 2014
*To see if you qualify for this RA Clinical Trial in Birmingham, visit Achieve Clinical Research on the web (http://www.achieveclinical.com/) or contact us directly at (205) 380-6434. There is no cost to participate, no insurance is required, and you may receive compensation for time and travel.
STUDY DESIGN
This is a 6-week, randomized, multicenter, open-label, parallel-group single-dose study to assess the PD and safety of a combination therapy in adults with rheumatoid arthritis who are on a stable dose of MTX.
After providing informed consent, patients will be assessed for study eligibility at the screening visit (day -14 to day -1). Patients who meet eligibility criteria will undergo day 1/baseline assessments and will be randomized in a 1:1:1:1 ratio to one of four treatment arms.
The duration of the study for a patient is approximately 6 weeks, excluding the screening period.
BACKGROUND & RATIONALE
Rheumatoid arthritis (RA) is a chronic, systemic inflammatory autoimmune disease, primarily targeting the synovial membrane of diarthrodial joints. This process can result in progressive joint destruction, chronic disability and shortened life expectancy. It is estimated that approximately 0.5% to 1% of the adult population in North America and Europe is affected by RA. Rheumatoid arthritis affects women twice as often as men, and the incidence is highest among women over 40 years of age.
Currently, treatment of RA involves the use of nonsteroidal anti-inflammatory drugs (NSAIDs/COX2 inhibitors), glucocorticoids and disease-modifying antirheumatic drugs (DMARDs). Methotrexate (MTX), sulfasalazine, hydroxychloroquine and leflunomide are DMARDs that have been used by rheumatologists for many years. Nine biologic agents, etanercept, infliximab, adalimumab, anakinra, abatacept rituximab, golimumab, certolizumab, and more recently, tocilizumab, a humanized anti-IL-6R monoclonal antibody, have been approved by the FDA and the EMEA for treatment of RA.
PRIMARY OBJECTIVES
The primary objective of the study is to describe the PD of hs-CRP, IL-6, sIL-6R, and ANC following a single dose of sarilumab SC or tocilizumab IV in patients with RA, who are on a stable dose of MTX.
INCLUSION CRITERIA
A patient must meet the following criteria to be eligible for inclusion in the study:

Patients with greater than or equal to 3 months of RA as defined by the 2010 revised American College of Rheumatology (ACR) criteria with CRP greater than or equal to 4 mg/L at the screening visit
ACR Class I-III functional status, based on the 1991 revised criteria
Continuous treatment with MTX – 10 to 25 mg/wk, oral or parenteral, for at least 12 consecutive weeks prior to screening and on a stable dose for at least 8 consecutive weeks prior to screening
Willing and able to comply with clinic visits and study-related procedures
Provide signed informed consent
*Achieve Clinical Research conducts Phase II-IV Clinical Research Studies in Alabama. For more information about participating in a Rheumatoid Arthritis Clinical Study, please visit our website or contact us directly at (205) 380-6434.