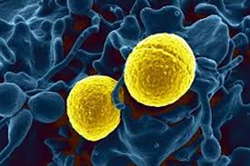 Antibiotics @ EurekaMag.com
Mannheim, Germany (PRWEB) June 10, 2014
EurekaMag.com has newly published abstracts of 94,500 references on the development and clinical testing of antibiotics in medicinal chemistry. While the site's research category covers all articles on bactericidal agents which kill bacteria and bacteriostatic agents which inhibit bacterial growth, the Life, Earth & Health Sciences Research Section 31 contains 8,430 previously unpublished summaries of references focusing on antibacterial compounds as semisynthetic modifications of natural compounds.
The Life, Earth & Health Sciences Research Chapter 30112 presents a wide range of studies on the use of antibiotics in agriculture, and in animal and human medicine. It features newly published abstracts on antibiotics for the control of disease of agricultural plants, antibiotics for the control of trees, shrubs, turf, and ornamental diseases, antibiotics developed from Australian terrestrial invertebrates, antibiotics from Basidiomycetes, antibiotics from gliding bacteria, antibiotics in animal nutrition, antibiotics in dairy cattle nutrition, antibiotics in emergency medicine, antibiotics in feed, antibiotics in food preservation, antibiotics in milk, antibiotics in soils, seeds and seedling plants, antibiotics stimulating or inhibiting germination and growth of rice, and on antibiotics produced by soil fungus strains from Antarctica.
The most significant and most read articles on antibiotics at EurekaMag.com include references on the antiphagic activity of the antibiotic Daunomycin, Anthramycin as a DNA-inhibiting antibiotic and its reaction with DNA and effect on nucleic acid synthesis in mouse leukemia cells, axenic culture with antibiotic and fungicide of water hyacinth, digestibility of rabbit diets containing an antibiotic, the antibiotic lenzitin, antibiotic substances produced by Pseudomonas aeruginosa, antibiotic substance from the root bark of Premna integrifolia, antibiotic resistance and virulence factors in Escherichia coli from broiler chicken, and an antibiotic from Spiraea aruncus.
Established in 1998, EurekaMag.com is a publisher of references in biology, in the applied life sciences agriculture, horticulture and forestry, in the earth sciences, in the environmental sciences, and in the health sciences. The site currently contains a total of 36.9 million bibliographic references and 20.8 million abstracts from as early as 1703.
The site also features expert literature searches on user-requested biological, geographical and health subjects, a mobile version for smartphones and frequently updated accounts at Twitter, Facebook, LinkedIn and Google+.